Reports: Celtics 'intriguing' for Love, Wolves want high pick
The Love Fest is in full swing.
• 2 min read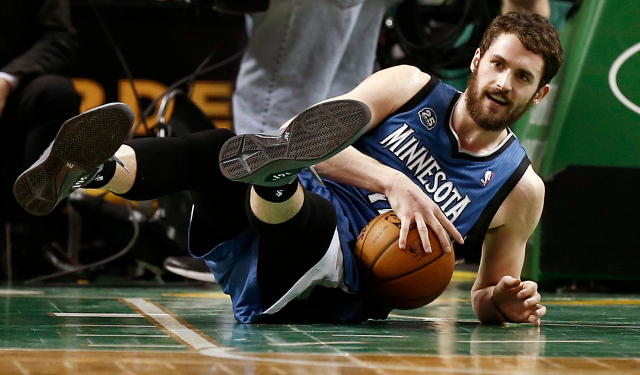 More Offseason Analysis: Coaching changes, news | Free Agency | Draft
Kevin Love reportedly is sick of missing the playoffs, and would like to compete on a contending team. The Boston Celtics are not a contending team, but they do have Rajon Rondo and some good role players. They also will have what the Minnesota Timberwolves desire, a high draft pick this season. From Yahoo Sports' Adrian Wojnarowski:
The Boston Celtics have emerged as an increasingly intriguing destination for Minnesota Timberwolves All-Star forward Kevin Love, and the Celtics' draft position coming out of Tuesday night's lottery could be telltale in determining the feasibility of a trade, league sources told Yahoo Sports.

If the lottery percentages hold to form, Boston would draft in the No. 5 slot, which could hold appeal to Minnesota in this talent-rich draft. If Boston moves up and cracks one of the top three spots, general manager Danny Ainge would have a more difficult decision to make on using the pick in a deal for Love.

Love's representatives with Excel Sports are pushing Timberwolves president Flip Saunders to find a trade acceptable to them before the beginning of summer free agency in July – preferably by the June 26 NBA draft, league sources told Yahoo Sports.
The Timberwolves have long been reluctant to even listen to other teams inquiring about their superstar power forward, but they've apparently softened their stance, via the Associated Press' Jon Krawczynski:
A likely asking price would include a high first-round pick in this year's draft and a solid veteran or two who would come in and contribute right away to a team that is lacking in veteran leadership.

If the Wolves do not get an offer they feel is worthy of parting with the second-best player in franchise history, they are content to move forward with a plan to show Love that Minnesota is where he belongs, much the way the Portland Trail Blazers did with LaMarcus Aldridge last offseason.
While the AP report indicates that Minnesota is still hopeful, the Yahoo report paints a picture of executives readying their offers. The draft lottery will affect some teams' leverage, but Wojnarowski mentioned the Houston Rockets potentially including Chandler Parsons and Omer Asik in trade packages. Love will have plenty of suitors. 
The Timberwolves might not have given up on a plan similar to what the Blazers did with LaMarcus Aldridge, but it's clear things will have to change pretty drastically if Love is going to stick around beyond next season. Minnesota president Flip Saunders is going to need to seriously consider any offer that includes young prospects or the opportunity to send undesirable contracts away. 
Jordan Bell had himself a night against Portland

The younger Ball brothers are heading to BC Prienai, but that could spell trouble

Not many games, but still plenty of action and intrigue Monday in the Association
SportsLine's advanced computer model simulated Tuesday night's Lakers-Knicks game 10,000 t...

The Reno Aces are concerned about the new WNBA franchise stealing their thunder

Hinkie parted ways with the 76ers in 2016 after drastically changing the direction of the...