Reports: Chris Bosh facing 'blood-clot scare,' will undergo more tests
The Miami Heat All-Star has a condition that goes beyond the calf strain that kept him out of the All-Star Game Sunday, but there is yet to be confirmation that Bosh has developed another blood clot.
Multiple reports surfaced Monday night that Miami Heat forward Chris Bosh has suffered a potentially serious complication beyond the calf strain that held him out of Sunday's All-Star Game. Bosh's agent informed the Miami Herald it was "too soon" to report that Bosh had developed another blood clot, after that condition ended his season and forced him on blood thinners for over seven months last year. 
First SheridanHoops reported the following: 
Multiple sources around the NBA tell me Chris Bosh's situation is much worse than people are being made aware of.

— Michael Scotto (@MikeAScotto) February 16, 2016
The Herald followed up:
The Heat was concerned on Monday about another potentially serious health situation involving Chris Bosh, multiple sources said.
Bosh missed Sunday's All-Star game with a strained calf and returned to Miami for additional tests. A person in touch with the Heat's front office said a worrisome problem surfaced Monday, beyond merely a strained calf. Another source said his life was not at risk.
Asked directly if Bosh had been diagnosed with a blood clot in his calf, agent Henry Thomas responded by text: "Too soon for all of that…. Too soon to report that." The Heat did not comment.
Source: Heat concerned about potentially serious issue with Bosh; agent said too soon to report another clot | Sports Buzz. 
The AP describes the situation as a "blood-clot scare," though more tests will have to be performed to determine his condition conclusively:  
Chris Bosh of the Miami Heat is dealing with another blood-clot scare, making this the second consecutive year that he's spent the All-Star break facing a most uncertain future because of the issue.
Bosh will spend "the next few days" reviewing options and no determination will be made about his playing status until he goes through more tests and evaluation, a person with knowledge of the situation told The Associated Press on Monday night. The person spoke on condition of anonymity because neither the All-Star forward nor the Heat have revealed the matter publicly
Source: AP Source: Chris Bosh dealing with another blood-clot scare. 
The blood clots Bosh developed last year were life-threatening and the experience was at once deeply scarring and transformational for Bosh on a personal level. Whatever the new situation is, it's at least being closely monitored which should improve Bosh's chances of avoiding a serious condition.
Meanwhile, beyond the more important matter of Bosh's personal health and well being, the Heat would be in considerable trouble if Bosh were to miss significant time. The team has failed to gel this season and with the trade deadline just days away, many are expecting roster moves that could create more instability. Losing the team's best overall player on both sides of the floor would be devastating toward their hopes of not only making a significant run in the Eastern Conference playoffs, but reaching the postseason in any regard. 
We'll update you when more becomes available on Bosh's condition.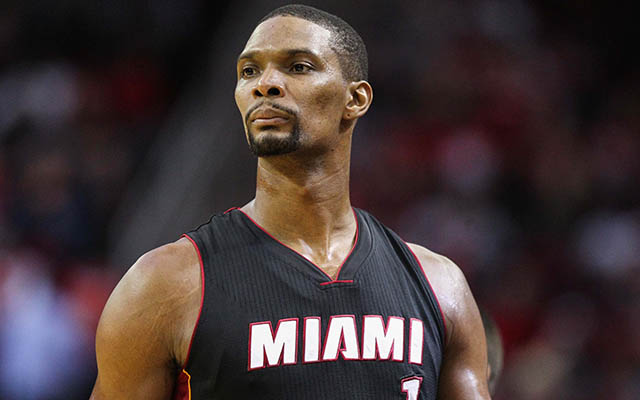 Irving has requested a trade away from the Cavaliers

The Lakers made a strong push for Rose, but he would have been a backup in Los Angeles

The small forward spent last season with the Sacramento Kings
Knight still has three years left on his five-year, $70 million contract

The Golden State forward is accused of assault, battery and making misleading statements

The Nets get their shooter a year later, and the Blazers reportedly will waive Nicholson