Reports: Clippers trade for Kevin Garnett unlikely
Multiple media outlets report that a rumored deal of Kevin Garnett to the Clippers is unlikely.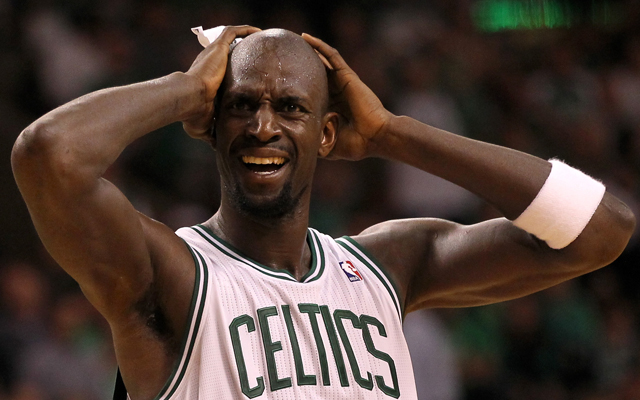 'You want to try to trade me? You realize I have a no-trade clause?'
(Getty Images)
You can hold your horses on that rumored Clippers-Kevin Garnett deal. Multiple media outlets reported Monday morning that no deal is imminent, despite discussions having been held. 
The trade rumor that made the rounds before the game started -- Garnett for Caron Butler and Eric Bledsoe -- was floated from the Clippers perspective, but the Celtics don't have any interest. It would take a lot more than that to get KG out of Boston and that's before anyone gets around to asking him if he wanted to waive his no-trade clause to make it happen. You've heard it said many times before: KG changed the culture. Those aren't idle words.
(via 10 things about Clippers vs. Celtics, starring Kevin Garnett, Paul Pierce and the ghost of Rajon Rondo - SBNation.com)
Im told nothing doing btwn Clips and Celtics re: KG right now. Clips remain open to anything that makes them btr now AND in future.

— Ramona Shelburne (@ramonashelburne) February 4, 2013


So that's a Celtics-based source and a Clippers-based source downplaying it. No surprise. Boston trading Garnett would have to come at a surprise moment. Plus, the Celtics have now won four in a row since Rajon Rondo went down after Sunday's win over the Clippers. You can already see the seeds of "No one believes in us" and "Rally around Rondo" coming to fruition. This team has played better the worse its talent level has become over the past three years, and without Rondo and Jared Sullinger, who had back surgery and will miss the remainder of the season, it's looking like another improbable run for the team that won't die. 
Meanwhile, the Clippers are just coasting. They proved their improvements in the first two months of the season, and Paul is nursing a knee injury shockingly similar to the same one that's landed him in street clothes the past two seasons at this exact point in the season. There's no need for them to rock the boat with how well they've been playing.
Throw in the fact that KG has a no-trade clause, and it's very unlikely KG switches colors this season, if ever.
Steven Adams believes he's the problem with the Thunder struggles in the clutch

LaVar claims that Luke Walton has been 'soft' on Lonzo so far

Allen has filed an emergency motion in an Orange County court in response to an accusation...
Larry Hartstein has been crushing NBA picks and just made a play for Bulls vs. Lakers on Tuesday...

He also apparently knows how to navigate the city risk-free

LeBron's minutes are a common point of discussion this season