Reports: Dan Gilbert wants Cavs to make playoffs, draft Wiggins
Cavs owner reportedly wants to make the playoffs and draft Andrew Wiggins and that's all very confusing together.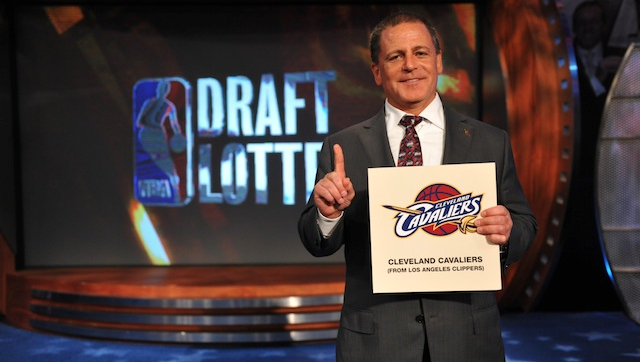 More draft: Mock drafts | Draft order | Prospect rankings
Dan Gilbert is quite the controversial figure in the NBA. If you mention his name, most people think of "the letter" which came after "The Decision." For Cavaliers fans, he's either the root of the problem, constantly pushing to make the playoffs and interfering in a long-term rebuild -- or a saint, the man who stood up for Cleveland and is trying to spend to make a winner. 
With the draft a day away, there's considerable noise coming out of Cleveland about where the Cavs are leaning, and Gilbert's influence is starting to be mentioned as a factor. From ESPN: 
Furthermore, Gilbert has given a mandate to ownership to turn this roster into a playoff squad this season. Parker is, by virtually all accounts, the most NBA-ready prospect in the draft.
via Cleveland Cavaliers torn on who to draft first - ESPN New York.
And then Wednesday, reports surfaced out of both ESPN and Cleveland that Gilbert is settled on Andrew Wiggins with the No. 1 pick while the front office prefers Jabari Parker. 
I was told same last night. RT @chadfordinsider: Sources: Cavs owner Dan Gilbert wants Wiggins at No. 1. Cavs front office wants Parker.

— Jason Lloyd (@JasonLloydABJ) June 25, 2014
So which is it? Gilbert wants to make the playoffs or he wants the less-refined, more raw Wiggins with the top pick? It surely can't be both. Wiggins will need several seasons to develop his considerable skill set. If the Cavs want to make the playoffs now, a trade is perhaps their best option. 
Gilbert denied the report, via Twitter, of course: 
Nonsense. We are united. RT @chadfordinsider: Cavs owner Dan Gilbert wants Wiggins at #1 Front office wants Parker. http://t.co/IMRUK09DKs

— Dan Gilbert (@cavsdan) June 25, 2014
Hopefully, the first report is off. The Cavaliers tried to rush their rebuild last season and it backfired big time. Their best bet is to commit to a long-term rebuild, no matter what the damage may be to Kyrie Irving's future in Cleveland. 
Cleveland's position and known instability is one reason many don't know what to expect on draft night. There is no "expected result." Everything is a wild card at this point. 
Jordan Bell had himself a night against Portland

The younger Ball brothers are heading to BC Prienai, but that could spell trouble

Not many games, but still plenty of action and intrigue Monday in the Association
SportsLine's advanced computer model simulated Tuesday night's Lakers-Knicks game 10,000 t...

The Reno Aces are concerned about the new WNBA franchise stealing their thunder

Hinkie parted ways with the 76ers in 2016 after drastically changing the direction of the...