Reports: George Karl's time short as Kings 'strongly weigh' firing coach
Sacramento could get its ninth coach in 10 years after the Kings lost to the Nets on Friday. The instability in Sactown continues.
In the aftermath of the Sacramento Kings' loss to the Brooklyn Nets on Friday night, the wheels are once again rattling loose on the good wagon #Kangz. As we posted Friday night, DeMarcus Cousins had strong comments about the play of the team and about criticism coming from coach George Karl.
TV analyst and close friend and former teammate of GM Vlade Divac, Bobby Jackson, had even harsher rebukes. (More on that here.)
It did not take long for national reporters to go snooping into what the situation was, and to be blunt: It's like the scene after the butcher makes the sausage. There's carnage everywhere. 
First, from Yahoo Sports, both Divac and owner Vivek Ranadive are considering firing Karl. 
Sacramento Kings owner Vivek Ranadive and general manager Vlade Divac were so livid about a blowout defeat to the Brooklyn Nets on Friday night -- the franchise's sixth loss in seven games -- they were strongly weighing the firing of coach George Karl, league sources told The Vertical.
"An overreaction to the loss" was how one league source involved in the conversations on Karl's job status described the organization's response late Friday night.
As hours passed following the 128-119 loss to the Nets, there were indications that Karl could be spared long enough to coach the Kings on Sunday in Boston. Nevertheless, Karl has rapidly lost support in management and some parts of the locker room, league sources told The Vertical.
Source: Sources: Kings strongly weighing the firing of coach George Karl - Yahoo Sports. 
USA Today also posits the controversial status of Karl's standing, and explores the financial impact that Ranadive would face for firing another coach after letting coach Michael Malone go last December, a move that was widely seen as a mistake by local media and fans.
ESPN's Marc Stein, on the other hand, isn't sure whether Karl will make it to the All-Star break and suggests that longtime Kings player and assistant coach Corliss Williamson could be the replacement in the interim should Karl be let go. 
No decision has been made yet whether George Karl will coach the three games to go on Sacramento's trip (Boston, Cleveland and Philadelphia)

— Marc Stein (@ESPNSteinLine) February 6, 2016
ESPN coaching sources say Nancy Lieberman "unlikely" to be named interim coach if George Karl indeed let go. One option: Corliss Williamson

— Marc Stein (@ESPNSteinLine) February 6, 2016
This is all trending in one direction. Earlier this week I profiled the good and bad about the Kings, including their woeful defense, which is largely the product of the personnel's inability to remain defensively disciplined while playing in Karl's up-tempo system. That has become the central issue at play, if you read into multiple reports as well as Cousins' comments. Karl, for his part, blames the players for their effort, while the players see the system as not setting them up to succeed. 
The only way to resolve that tension is either for the players to buy in 100 percent, which they will not do when they are losing and it is uncomfortable, or for Karl to adapt his methods to the personnel. That sounds easy and simple, but it's a big deal to Karl. Just read up on what he told CBS Sports before the Warriors ousted his Nuggets in 2013 about playing small and his philosophical beliefs in it. And Karl's right that with the right players with the right mindset, his system can succeed. It's proven. However, more and more it becomes apparent that this team will not be one to marry the necessary talent and discipline it takes for it to succeed, whether due to attitude, fit, or the simple matter of what this roster does best. 
We've been here before with Sacramento this season, several times in fact. And each time they've faced the cliffs of falling off into irrelevance, they've responded with a win streak. We'll see how they respond, if at all, to this latest flare up of drama, or if it's simply too late to salvage this season with Karl and if Sacramento could be looking at its ninth coach since Rick Adelman was let go in 2006.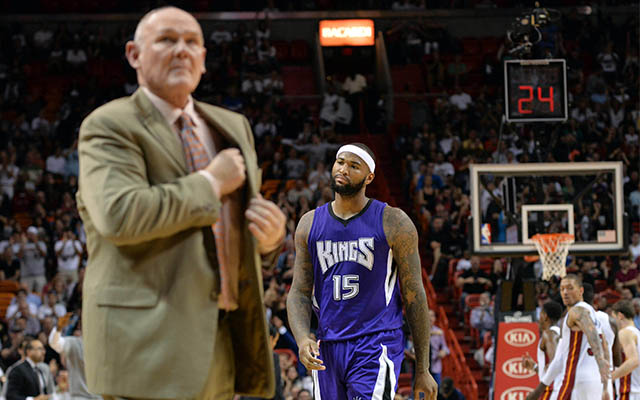 CBS Sports HQ Daily Newsletter
Get the best highlights and stories - yeah, just the good stuff handpicked by our team to start your day.
Please check the opt-in box to acknowledge that you would like to subscribe.
Thanks for signing up!
Keep an eye on your inbox for the latest sports news.
Sorry!
There was an error processing your subscription.
The former first-round pick doesn't think Dudley "can hold Carmelo's jockstrap"

Simmons understands his game must expand for Philly's offense to take its play to the next...

The Hornets will complete their 90s throwback collection with the purple pinstriped look
Tucker, who has developed into an important piece in the Rockets' rotation, says he's optimistic...

Los Angeles is considering every center under the sun to fill the void left by the injured...

Team USA's next exhibition game leading up to the FIBA World Cup in China will be on Aug. 22...