Reports: Kings, Pelicans, Blazers in sign-and-trade for Tyreke Evans
The Kings, Pelicans and Blazers reportedly agree to sign-and-trade deal involving Tyreke Evans, Greivis Vasquez and Robin Lopez.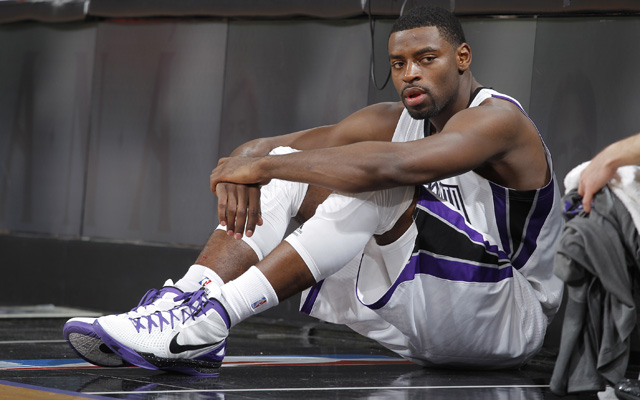 Update 5:00 p.m. ET: 
ESPN reports that the deal has been verbally agreed to. Sacramento gets Greivis Vasquez, Portland gets Robin Lopez, New Orleans gets Tyreke Evans, and the Trail Blazers will send picks out in the deal.
---
This yet another one of those things that we need to back up the bus a little bit and give you some background on, but let's get the nitty gritty out of the way. First, the Sacramento Bee reports that the Kings have decided not to match the $44 million offer sheet extended by New Orleans to guard Tyreke Evans. Second, they're working on a sign-and-trade agreement involving guard Greivis Vasquez and center Robin Lopez. 
The Kings will not match the four-year, $44 million offer sheet that Tyreke Evans has agreed to sign with the New Orleans Pelicans. According to sources close to the situation, the new Kings management group instead is hoping to close Thursday on a sign-and-trade agreement involving Pelicans point guard Greivis Vasquez and backup center Robin Lopez.
via Kings Blog and Q&A: Kings nearing trade of Tyreke Evans to Pelicans for Greivis Vasquez, Robin Lopez.
After the Bee report, USA Today revealed that the Portland Trail Blazers have gotten in on the act. 
Per @ailene_voisin report on Kings/NO trade, no deal done but scenario would send Robin Lopez to Portland, Vasquez to Sac, Evans to Pelicans

— Sam Amick (@sam_amick) July 4, 2013
OK, so the big picture here has a lot of moving parts. Let's go through it. 
New Orleans is clearly swinging for the fences right now. They just added Tyreke Evans, and have given no indications they plan to trade Eric Gordon. And they traded for Jrue Holiday at the draft. So they are looking at possibly putting Evans at small forward, and running out Holiday-Gordon-Evans-Ryan Anderson-Anthony Davis and then my head explodes. 
When New Orleans had reportedly extended a huge offer sheet to Evans, there was a lot of confusion. Would they move Gordon? Would the Kings match (as they had indicated they would)? 
Then things got weirder, as the Kings offered, and then pulled, an offer sheet to Andre Iguodala for four-years, $52 million. It was thought that they yanked that offer to keep room to match Evans. But now it looks like they're not doing so. Like I said, this is all confusing and weird. 
Meanwhile, the Blazers would do really well in this deal, depending on what they give up. They need a center, badly, with starter J.J. Hickson an underwhelming free agent. Lopez fits perfectly next to LaMarcus Aldridge and instantly makes the team better while not surrendering a massive contract. 
This deal is still evolving, so we'll have to see how it turns out, but it definitely looks like a major change for the Kings, Pelicans and Blazers going forward if it goes through.
Get all the latest scores, news and highlights from Friday's NBA games

Porzingis is questionable for Carmelo Anthony's return to MSG on Saturday

The Spurs and Rockets will renew their in-state rivalry on Friday night
Anthony will play at Madison Square Garden on Saturday for the first time since being trad...

SportsLine's Mike McClure, a DFS pro with more than $1M in winnings, gives optimal lineup...

The Cavaliers won the much-anticipated matchup, 121-112