Reports: Kings trade Nik Stauskas to Sixers, pursuing Monta Ellis
Sacramento dumped 2014 first-round pick Nik Stauskas, reportedly, and the next step is apparently to sign a bunch of free agents? Sure.
• 1 min read
The Sacramento Kings are making changes, everybody. Jason Thompson has spent the first seven years of his career with the franchise, and now that era is reportedly over. He's headed to the Philadelphia 76ers alongside Carl Landry and -- seriously -- 2014 first-round pick Nik Stauskas, according to Yahoo Sports' Adrian Wojnarowski. In exchange, the Sixers are sending back "the rights to overseas players," and we're not talking about Dario Saric here. This is a salary dump.
Oh, and by the way, Philadelphia will receive a protected first-round pick from Sacramento, plus the right to swap picks in the first round of two other drafts, per Grantland's Zach Lowe. Sixers general manager Sam Hinkie was quiet on draft night, but he just made up for it.
Why exactly would the Kings do this? They're chasing free agents, of course. Who wouldn't want to play for this franchise? Their targets: Monta Ellis, Rajon Rondo and Wesley Matthews, according to ESPN and Yahoo Sports.
Now I would like to present this tweet:
Mavs source a week or so ago pondering possibility of Rondo-Monta-Gay-Cousins quartet: "Man, I would buy season tickets in Sacramento."

— Tim MacMahon (@espn_macmahon) July 2, 2015
Clearly, the Kings are pushing to add as much proven talent as possible. That means big names, not the Sauce Castillos of the world. The problem is that they might have to overpay to get guys like this right now, and they're surrendering future assets in order to do this. It is very difficult to be a respectable team in the Western Conference, and Sacramento is doing its damndest to turn into one as fast as possible.
As for Philadelphia, Hinkie's patience has paid off once again. It does this particular organization no harm to carry Thompson's and Landry's contracts, and Stauskas could shine in head coach Brett Brown's fast-paced, 3-point-heavy system. The Sixers obviously need shooters, anyway.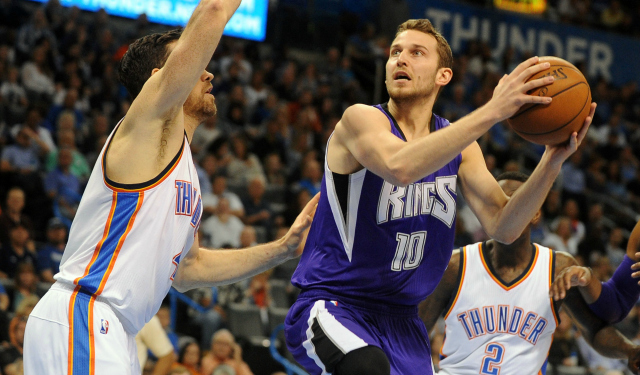 Kyle Korver didn't play as much as fans thought he should have and it apparently had to do...

The Finals will begin on the final day of May and run through as late as June 17

The Celtics came out on top in Game 5 and are now one win away from the NBA Finals
The Cavs are one loss away from elimination, and the Celtics are knocking on the door of the...

The Celtics defense dominated the Cavs in Game 5, holding them to just 83 points

Tempers flare in Game 5 as both players earn a tech, while Terry Rozier ends up getting involved,...