Reports: Knicks think Derek Fisher can help lure Kevin Durant in 2016
New York considers itself in the mix for MVP Kevin Durant's services in free agency two years from now.
• 1 min read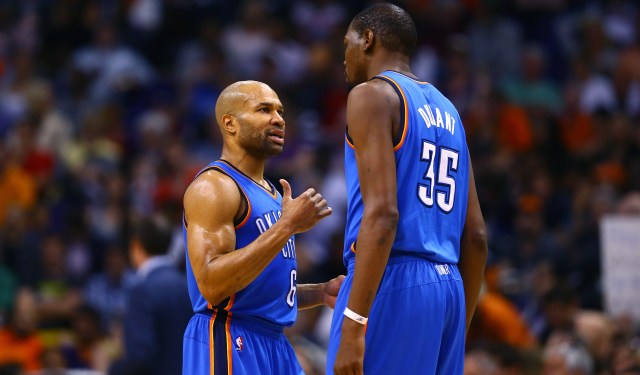 More Offseason Analysis: Coaching changes, news | Free Agency | Draft
The New York Knicks plan to go after Kevin Durant when his contract with the Oklahoma City Thunder expires two years from now, and they think new head coach Derek Fisher can help recruit him, according to ESPN's Marc Stein:
The Knicks, sources say, expect to be a contender for Oklahoma City's Kevin Durant when he is projected to become a free agent in July 2016 and believe their chances will be enhanced by the presence of Fisher, one of Durant's favorite teammates with the Thunder.
Durant spoke glowingly about Fisher at his MVP ceremony, endorsed him for the Knicks job during the Western Conference Finals and, of course, tweeted his best wishes after it became official:
So happy for my brother @derekfisher, I can speak for the whole state of Oklahoma when I say we will miss u and we love u. Good luck coach

— Kevin Durant (@KDTrey5) June 10, 2014
New York president Phil Jackson is trying to sell star forward Carmelo Anthony on the idea of opting into the final year of his contract and waiting for the Knicks to add free agents in 2015. Durant doesn't go on the market until a year after that, and there's no telling whether or not he's considering leaving Oklahoma City. It might be an option if the Thunder don't win a championship in between now and then, according to ESPN's Ian Begley:
"He only wants to win a championship," one league source familiar with Durant's thinking said Tuesday. And Fisher's presence could help lead him to New York if he decides to bolt Oklahoma City. 

"It will definitely be a factor," the league source said. 

There is another, obvious link between Durant and New York City. His agency, Roc Nation Sports, is headed by Jay Z, one of the Big Apple's most well-known residents. 
Considering the state of the Knicks roster and the possibility that Anthony might leave -- he will consider the Chicago Bulls, Dallas Mavericks and Houston Rockets if he becomes a free agent, according to ESPN -- this might be just a pipe dream. Still, with this and all that talk from Greivis Vasquez in Toronto, it's safe to say the Durant watch has already begun. Yippee.
Philly and Boston are matching up again after the Sixers' second-half collapse in London

Kris Dunn somehow took a chunk of the Bulls court out with his teeth, but didn't lose any in...

The fallout from the Rockets-Clippers tussle continues; no Clippers were disciplined
DH12 is picked for free throws after a teammate gets ejected. He makes both, and lets Scott...

Bell was injured defending a Robin Lopez dunk and had to be taken off the floor in a wheel...

Trevor Ariza and Gerald Green are reportedly both suspended two games