Reports: Lakers fielding multiple offers for Jordan Hill
Hustle junkie forward is the hottest trade target at a slow deadline.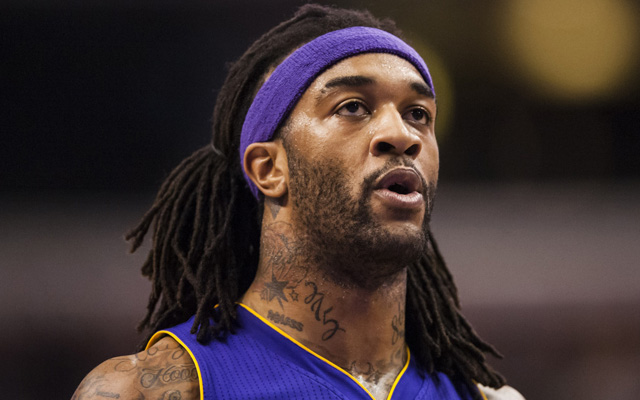 In a sign of where we're at with the 2014 NBA Trade Deadline, the big name being thrown around is.... Lakers reserve big man Jordan Hill. Hill was drafted by the Knicks, but quickly fell out of favor with Mike D'Antoni and traded to Houston. This of course meant it got awkward when D'Antoni took over the team last year after Hill had been signed. 
With the Lakers looking to cut into their massive luxury tax obligations, Ken Berger of CBSSports.com reports that the price for the hustle junkie is low. 
Nets would give Lakers nothing for Jordan Hill, who'd go into their exception. So it's a "race" to see who will offer more than nothing.

— Ken Berger (@KBergCBS) February 19, 2014
So let's run down the list of teams interested in Hill, according to reports. The Nets, as listed above, plus:
the Suns and Mavericks:
The Phoenix Suns and Dallas Mavericks have also talked to the Lakers about acquiring Jordan Hill, according to a league source.

— Dave McMenamin (@mcten) February 19, 2014
the Cavs:
Hearing now that Cavs have strongly emerged as team trying to trump BKN and acquire Jordan Hill from Lakers. Looks like Cavs & Nets for Hill

— Marc Stein (@ESPNSteinLine) February 19, 2014
and the Hawks;
Lakers have also had discussions with the Atlanta Hawks on Jordan Hill and Chris Kaman. Nets, Cavs also in mix for Hill

— Ramona Shelburne (@ramonashelburne) February 20, 2014
Hill is thought of as a low-impact role player, but he plays extremely hard. Per 36 minutes, he's averaging 15.6 points and 12.9 rebounds on 54 percent shooting with an 18.5 PER. Put him next to a dominant scorer like Nowitzki, or as part of a bruising inside combo with Plumlee in Phoenix, or next to Millsap in Atlanta and you have a definite upgrade. He's a willing defender who just needs help learning a system. 
Either way, expect him to find a new zipcode sometime before tomorrow's 3 p.m. deadline. Sporting News reports the Lakers' front office bosses are meeting tonight to discuss deals. 
The awards are voted on by peers in the NBA and adds to Russ' league MVP award he won this...

Minnesota is facing even bigger expectations headed into next season, and they'll be difficult...

When the NBA MVP odds came out, it got us thinking: Will stat-compiler Russell Westbrook win...
Durant labeled the Cavs' situation as a regular problem in the NBA

James takes to Instagram for a better look at the Cavs' new Nike-made uniforms

Kevin Durant says he doesn't agree with what President Donald Trump agrees with