Reports: Magic to sign-and-trade Ryan Anderson to Hornets for Gustavo Ayon
The Orlando Magic will reportedly sign-and-trade restricted free agent forward Ryan Anderson to the New Orleans Hornets for Gustavo Ayon.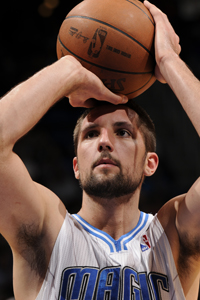 Could Ryan Anderson be on the move?
(Getty Images)
Will the Orlando Magic's No. 2 option join their franchise player on the trading block?
With trade rumors continuing to swirl around All-Star center Dwight Howard, an unexpected development on Sunday: Magic forward Ryan Anderson could be moved in a sign-and-trade scenario, according to Yahoo Sports.
According to the Times-Picayune, center Gustavo Ayon is the Hornets player being sent back to Orlando. NBA.com confirms that the swap will send Anderson for Ayon and that the deal has been officially agreed to.
Anderson is a restricted free agent after the Magic issued him a qualifying offer back in June. Yahoo Sports reports Anderson will receive a 4-year contract worth $36 million from the Hornets. The salaries for the two players don't need to match because the Hornets are well under the salary cap.
Anderson, 24, had a career year in 2011-12, averaging 16.1 points and 7.7 rebounds while shooting 39.3 percent from deep. He's a classic "stretch 4" with deep range and he's emerged as a very productive player after moving into a full-time starting role this last season. The 2012 Most Improved Player award winner was ranked No. 8 on the CBSSports.com Top 40 free agents of the Class of 2012.
Ayon, a 27-year-old Mexican center, just completed his first year in the NBA last season with the Hornets. He posted averages of 5.9 points and 4.9 rebounds in 20.4 minutes per game. He's on the books for $1.5 million in 2012-13 and $1.5 million in 2013-2014.
The Magic, of course, are in "clean house" mode under new GM Rob Hennigan, who was hired back in June. Hennigan has fired a number of executives and scouts, worked the phones on Howard trade scenarios and is surely looking to get his franchise to a better position cap-wise to aid in an expected rebuilding effort.
It was generally assumed that Anderson would be one of the longer-term building block pieces for the Magic, who have all sorts of money tied up in older players like Hedo Turkoglu and Jason Richardson. Dealing for Ayon solves two problems for Orlando: it prevents Anderson from walking for nothing and it ensures they get a rotation player on a very reasonable contract back in return.
Still, this represents only a solid consolation prize. Had it not been for earlier big-dollar commitments to other veterans, Anderson would likely have remained in Orlando as a big-dollar, foundational piece. Sacrifices and tough decisions have to be made when you've got messy books, as the Magic do.
The Hornets do well here. The price on Anderson is exactly right and the addition doesn't prevent them from completing their first order of business: matching the Phoenix Suns' 4-year, maximum offer sheet to restricted free agent guard Eric Gordon. Indeed, with a core of Gordon, Anderson and No. 1 overall pick Anthony Davis, plus no other major, long-term salary commitments, the future is looking very bright in New Orleans.
The lack of urgency from the front office has some players doubting their chances of reaching...

Who can convince LeBron James to stay in Cleveland? What can the front office get for the Brooklyn...

Mike D'Antoni and Blake Griffin's altercation turned out to be the tip of the iceberg for a...
The former Clipper apparently had some tricks up his sleeve after a chippy game

The Rockets were apparently looking for Austin Rivers and Blake Griffin after a chippy gam...

If they don't meet in the Finals again, let's appreciate every one of the 27 matchups since...