Reports: Mavericks, Celtics have talked Rajon Rondo trade
The Mavericks and Celtics have reportedly talked about a trade involving Rajon Rondo, but the Celtics want Dirk Nowitzki in return.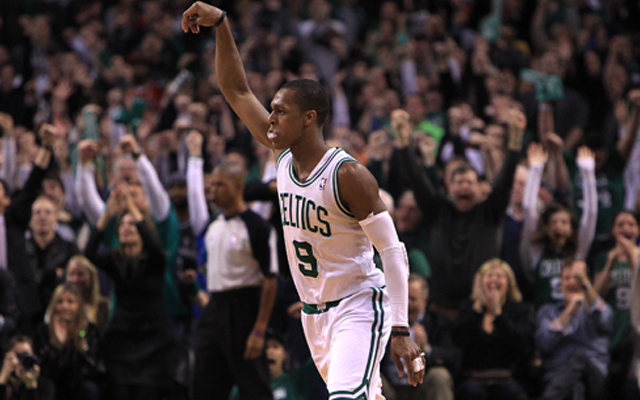 DallasBasketball.com first reported and ESPN and Yahoo Sports confirmed the Dallas Mavericks have had preliminary trade discussions with the Boston Celtics centered around point guard Rajon Rondo. Boston is clearly moving all the pieces it can to try to go for a total rebuild, and Rondo, despite recovering from ACL surgery, has the most value on the market. 
One problem: ESPN reports the Celtics' asking price is Dirk Nowitzki. That's going to cause some hangups. Like, every hangup in the world, ever. The Mavericks want to stay in contention but there's been no indication that has meant a willingness to move the franchise player. Owner Mark Cuban wants to load up a team around Nowitzki to win another title and have him ride off into the sunset, a Mav forever.
Why would the rebuilding Celtics want Nowitzki? Because flipping him like a house on a reality TV show would net them a massive package of young players and contracts, better than what they'll get for Rondo on his own, or even for Kevin Garnett and Paul Pierce in the Nets deal. 
If such a deal meant an assured signing from Dwight Howard in free agency, then the Mavericks would be forced to consider it. But until that's the case, this will be a non-starter. On top of that, acquiring Rondo, without trading Dirk, limits their ability to sign Howard to a max deal, unless the Celtics were to take Shawn Marion and all the rest of the flotsam Dallas has floating around. 
It's incredibly easy to say, "This isn't happening," and toss it out, but the NBA is clearly entering another arms race, and Cuban is not the type to stay out of the fray. The Mavs are serious about making a big move, and clearly, Rondo is not considered part of the Celtics' rebuilding plans. 
Expect fireworks starting on Monday as the NBA's free-agency period begins. 
We've got you covered for all the scores and highlights from Sunday's NBA games

The Cavs superstar compared Kaepernick to Martin Luther King Jr. and Muhammad Ali

The Warriors coach isn't surprised that the president and LaVar Ball are in a war of words
Kyle Kuzma is tired of how his teammate Lonzo Ball is being treated

The Warriors used a huge third quarter to come back from a 23-point deficit to get the win

Three takeaways from Golden State's 24-point rally past the Sixers