Reports: Mitch Kupchak snuck in an early meeting with Dwight Howard
Mitch Kupchak reportedly snuck in an early meeting with Dwight Howard after agreeing to be last in the free agent's meetings.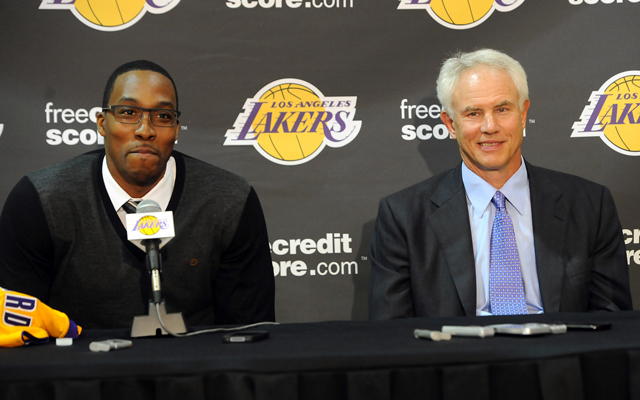 Update Monday 3:13 p.m. ET: The Orange County Register reports the meeting was pre-arranged, so at least the Rockets don't have to be mad about it. 
Cool as it'd be to envision Kupchak like a phantom swooping in for 1st face-to-face with Dwight, it was prearranged for Lakers to start it.

— KEVIN DING (@KevinDing) July 1, 2013
But you have to wonder what the thought process was in allowing this. First and last word? Talk about homecourt advantage. Is Kupchak going to check in with Dwight after every meeting? Is this like his dad checking in after he goes on dates? 
---
The order had reportedly been set. Dwight Howard would meet with the Houston Rockets, considered the frontrunners for his services first, right after the opening of free agency at 12:01 a.m. ET in Los Angeles, and the Lakers would visit with him last, on Tuesday evening. The Lakers reportedly requested to go last, as to have the last word with the player they traded for to be their next franchise cornerstone last summer, and the Rockets would get the opening salvo to try to lock everything up from the get go. 
One problem. 
Mitch Kupchak snuck in and got the first and last word. 
The Los Angeles Times and ESPN LA both report that shortly after the opening of free agency, the Lakers GM met with Howard before the Rockets contingent arrived by car where Howard met them for dinner and discussions of his future. 
If accurate, you're talking about a pretty egregious break of standard operating procedure. There's a way you do things in these situations. You have your turn, and the Lakers already got preferential treatment by getting to choose when they spoke with Howard, first, last, middle whatever. But Kupchak apparently decided to screw the rules, he's Mitch Kucphak, this is Dwight Howard, and he's doing everything he can to keep Howard in purple and gold. 
You have to imagine the Rockets won't be too happy after they were granted the first visit to have Kucphak sneak in and speak with Howard, getting the first and last word with him. 
Now, if Kupchak spoke with Howard before 12 a.m. ET, 9 p.m. PT, then it's fine. Howard was still under contract with the Lakers. This is how basic these things are. But it's another wrinkle in the ongoing drama of Dwightmare 3, the Wrath of Yawn, as hopefully the trilogy comes to a close.
Howard is scheduled to meet with the Hawks and Warriors on Monday, and the Mavericks and Lakers Tuesday before making his decision by the time the NBA's moratorium period ends on July 10th.
McCollum hurled a clever insult at the French forward

Hosts Bill Reiter and Reid Forgrave are joined by Blazers guard CJ McCollum

Check back throughout the night for the latest updates from Monday's NBA games
Garnett has worked with Maker and says he is reminded of himself

It might be a good time to place a bet on the Boston Celtics

SportsLine's Mike McClure, a DFS pro with more than $1M in winnings, gives optimal lineup...