Reports: Paul George 'likely' out next season after traumatic injury
Pacers guard/forward has 'good' surgery with no ancillary complications after devastating leg injury.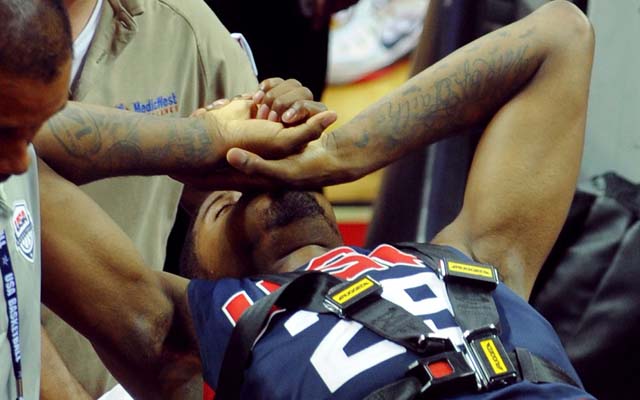 Offseason: Pacers' odds drop | Free Agency | Latest from Ken Berger | Rumors
Pacers forward Paul George who was injured Friday night in the Team USA scrimmage reportedly cleared surgery to repair a compound fracture Friday night and early indications are positive. 
Paul George is indeed out of surgery & anyone who loves bkb should rest a little easy: I'm told everything went well. No new damage found.

— Candace Buckner (@CandaceDBuckner) August 2, 2014
Pacers got some good news: surgery on Paul George's leg revealed no ancillary damage and that will greatly help recovery, source said

— Brian Windhorst (@WindhorstESPN) August 2, 2014
Pacers guard Paul George had a "good surgery. No ancillary damage" but likely out for next season, a source told Yahoo Sports.

— Marc J. Spears (@SpearsNBAYahoo) August 2, 2014
Paul George is out of surgery. Word is it went well and there's hope he could return before end of next year, but probably miss season

— Ramona Shelburne (@ramonashelburne) August 2, 2014
Team USA released a brief statement following surgery, describing it as "successful." George suffered an open tibia-fibula fracture and is expected to remain hospitalized for three days.
Given the graphic nature of the injury any return next season seemed implausible at the ouset. The impacts for the Pacers will be wide-ranging and there's a very real chance that their season could be a lost one from the get-go due to George's injury. 
But given how bad the initial indications of the injury were, any good news is welcome and in these very early moments after surgery, there does at least pose some hope that George's injury won't be career-ending.
Another day, another social media beef for Embiid

We have all the latest scores, highlights and news from Wednesday's NBA games

Thomas spent a day with a 10-year-old girl whose family is also new to Cleveland
Barkley did not hold back with his opinion of the Big Baller Brand patriarch

LaVar Ball also made it clear he thinks his sons are being placed in 'a great situation'

The Thunder are just 12-14 on the season, despite the addition of Paul George and Carmelo...