Reports: Rockets agree to deals for Jeff Adrien, Joey Dorsey
Houston beefs up their front line with tough interior defenders and rebounders.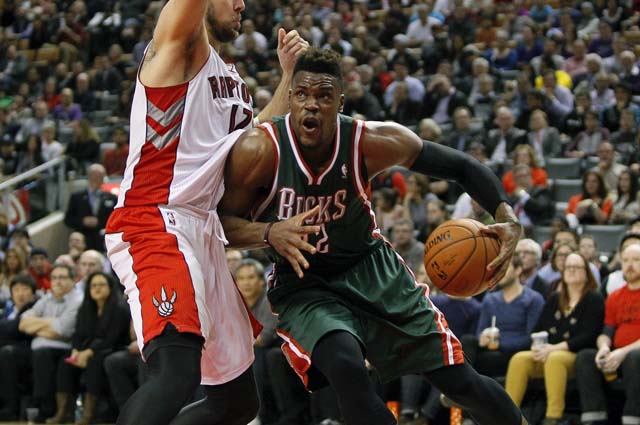 More Offseason Analysis: Updating Free Agency news | Free Agent tracker
Yahoo Sports and the Houston Chronicle report that the Rockets have signed former NBA player Joey Dorsey who spent the past several seasons in Europe, and Bucks free agent Jeff Adrien.
Yahoo Sources: Free agent center Joey Dorsey reaches agreement on a two-year deal with the Houston Rockets. http://t.co/623JnyjWLa

— Adrian Wojnarowski (@WojYahooNBA) July 15, 2014
Rockets had kept an eye on Dorsey in Europe. During an interview last month about the draft, Morey brought up Dorsey's play past 3 yrs.

— Jonathan Feigen (@Jonathan_Feigen) July 15, 2014
Dug up that Morey quote: "Dorsey has become the best defensive big in Europe and was voted the best defender on a Euroleague champion team."

— Jonathan Feigen (@Jonathan_Feigen) July 15, 2014
Rockets have also agreed to a minimum, one-year deal with forward Jeff Adrien, source said.

— Jonathan Feigen (@Jonathan_Feigen) July 15, 2014
Adrien, in particular, is a steal for the vet min. He played for both Charlotte and Milwaukee, and after arriving with the Bucks, averaged 15.6 points and 11.1 rebounds per 36 minutes, a tremendous rate. (10.9 points and 7.8 boards per game.) He's a tough defender, a monster rebounder, and carries an attitude. 
He and Dorsey are just what the Rockets need, defenders who can defend the interior. The Rockets offseason was still a bust given the losses they suffered in pursuit of a failed run at Bosh and after letting Chandler Parsons go, but for value signing, it's pretty good. 
The Pacers believe the Lakers tampered with Paul George before they traded him

Among the questionable decisions by Jackson was signing Noah to a long-term, lucrative dea...

This Akron store doesn't want their hometown hero to leave again
Milwaukee's star did not get cleared to play for his national team due to a painful knee i...

Ball, the second overall pick in the NBA Draft, is receiving even more hype

Rap mogul supports the vision the outspoken father has for his brand and sons