Reports: Sam Mitchell, Sidney Lowe to join Flip Saunders' Wolves staff
Former Raptors head coach Sam Mitchell will reportedly join Flip Saunders' staff in Minnesota.
• 1 min read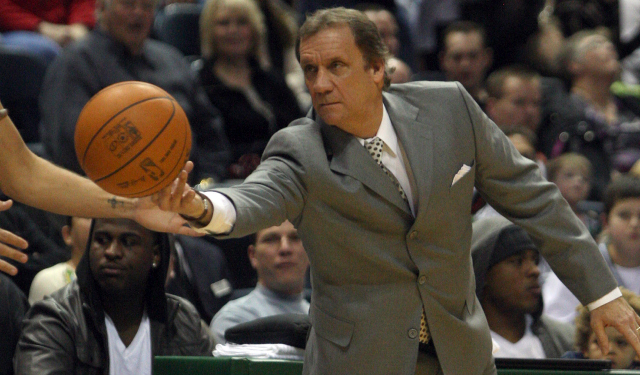 More Offseason Analysis: Coaching changes, news | Free Agency | Draft
As has been strongly rumored for a while, former Minnesota Timberwolves players Sam Mitchell and Sidney Lowe are reportedly heading back to the Twin Cities to join Flip Saunders' coaching staff. Mitchell and the team are 'finalizing an agreement,' Yahoo Sports' Adrian Wojnarowski reported on Thursday afternoon. Lowe's deal is expected to be done by Friday, according to the Star Tribune's Jerry Zgoda.
Mitchell took over as the head coach of the Toronto Raptors before the 2004-2005 season, and was fired 17 games into the 2008-2009 campaign. He went 156-189 in his Toronto tenure, and the team twice lost in the first round of the playoffs. Since then, he has been an analyst on NBA TV, SiriusXM NBA Radio and TSN. Before Saunders decided to hire himself, the Timberwolves president was reportedly considering Mitchell for the head-coaching job. Mitchell played in Minnesota from 1989 to 1992, and again from 1995 to 2002.
Lowe was a teammate of Mitchell's with the Timberwolves in 1989-90. He became an assistant there in 1991, taking over the head-coaching job in the middle of the 1992-1993 season and keeping it until the end of the 1993-1994 season. Lowe returned as an assistant in 1999-2000 and from 2003 to 2005. He has been on Tyrone Corbin's staff in Utah since 2011. 
Ryan Saunders, Flip's son, is also expected to join the staff, according to the Star Tribune. It appears none of the new coaches will have trouble finding their way around Minneapolis.
Thomas took to Twitter to let the Celtics know he doesn't want to ruin Pierce's night

The Hall of Famer's jersey was retired by the Celtics in 1982

It's rare to see a legit punch in an NBA fight, but this was definitely one of them
We've got all the scores, highlights and news from an NBA Tuesday

The former Slam Dunk Contest champion will take his talents to Tri-State

Do NBA players have look-a-likes from famous paintings? We found out on the new Arts & Culture...