Reports: Steve Kerr talking to Adams, Blatt, Gentry, Engelland
Warriors head coach Steve Kerr is reportedly talking to numerous big names about joining his staff.
• 1 min read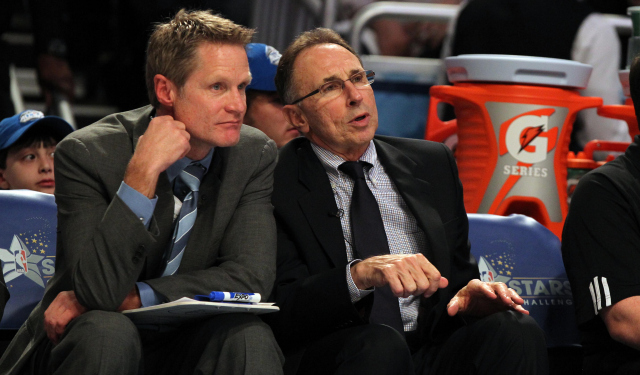 More Offseason Analysis: Coaching changes, news | Free Agency | Draft
Golden State Warriors head coach Steve Kerr is trying to assemble his staff, and is reportedly talking to numerous big names about assistant-coaching positions. Kerr has spoken to Boston Celtics assistant coach Ron Adams, according to Yahoo Sports' Adrian Wojnarowski, adding another candidate to an already high-profile search.
David Blatt, who just stepped down as the coach of Maccabi Tel Aviv, will either go to Golden State or become the head coach of the Cleveland Cavaliers, and Kerr is also chasing Clippers assistant Alvin Gentry and San Antonio Spurs shot doctor Chip Engelland, according to ESPN's Marc Stein.
It is unclear how far along these discussions are, and Kerr recently told CSN Bay Area's Monte Pool that he had to wait for other teams to make decisions about their head-coaching vacancies. Gentry is reportedly in the mix for the Cavs and Los Angeles Lakers jobs, and new Utah Jazz head coach Quin Snyder is reportedly also trying to lure Engelland away as an assistant. Whatever ends up happening, it looks likely that the Warriors will make a splashy hire.
LeBron and Durant both responded to a newswoman's recent comments, telling them to 'shut up...

Mitchell's Slam Dunk Contest win was the icing on the cake of an incredible run of success

Dennis Smith Jr. had a great dunk contest, but the judges didn't feel the same way
Mitchell was awesome, but Larry Nance Jr. and Dennis Smith Jr. had some serious moves of their...

Silver noted that there are many factors at play with the issue affecting both the NBA and...

Jazz rookie Donovan Mitchell came in as a replacement and ended up winning the whole thing