Reports: Suns reach agreement to re-sign P.J. Tucker
Phoenix brings back veteran defender and three-point shooter on three-year deal.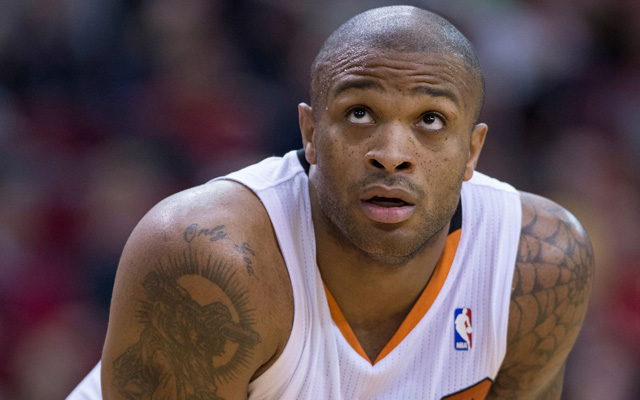 More Offseason Analysis: Updating Free Agency news | Top 40 free agents
The Arizona Republic along with Yahoo Sports and RealGM.com report that P.J. TuckerPhoenix Suns has reached a three-year, $16.5 million agreement to re-sign with Phoenix. 
Suns coaches, teammates and executives considered P.J. Tucker to be the heart of their team last season, and the franchise backed their opinion of his value by agreeing Thursday to a three-year, $16.5 million contract to keep him in Phoenix. About $3.8 million of Tucker's third-year salary will not be guaranteed. Tucker has not signed the contract.
via Suns, P.J. Tucker agree to 3-year, $16.5M contract.
Tucker isn't getting much better at age 29 but proved himself to be a vital part of what Phoenix did last season. He shot 37.5 percent from three last year, averaging 9.4 points and 6.5 rebounds per game. But more than that, he set the tone for the Suns last season. 
Coach Jeff Hornacek described Tucker as the player who often admonished players when the team trailed at the half, and who brought the toughness for a young, fast team that at times struggled defensively. Tucker was the one player willing to give the hard foul and challenge opponents. Throw in his ability to stretch the floor while also adding value defensively and he was pretty valuable for what Phoenix is trying to do. 
Getting him at $5.5 million per season is remarkable value. It's a deep wing crop on the market but still, a veteran who can shoot and defend might have been able to draw more value in free agency. The Suns did well in bringing him back. The Republic also reports that the third year of the deal is non-guaranteed at just $3.8 million, giving them even more flexibility and allowing them to move him as an expiring contract next season. 
Is this rock bottom for the Cavaliers because it sure feels like it is

Wade, as he's done so many times in his career, threw it up to LeBron for the thunderous f...

The Warriors coach added there should be no shame in being picked last since everyone's an...
We've got all the scores, highlights and news from all of Saturday's games

The two teams have reportedly not had any substantial discussions to this point

Oladipo may be getting most of the shine, but this second-year big man has been phenomenal...