Reports: Utah Jazz to promote Kevin O'Connor, hire new GM
The Utah Jazz will reportedly promote GM Kevin O'Connor and conduct a search to hire a new GM.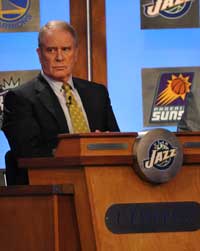 Kevin O'Connor is headed upstairs for the Jazz.
(Getty Images)
After navigating some dicey waters, it's time for the captain to get a bump.
The Utah Jazz will promote GM Kevin O'Connor and begin a search for a new GM, according to Yahoo Sports and the Salt Lake Tribune. Yahoo reports that a number of well-known basketball executives have been considered for the position.
San Antonio Spurs assistant GM Dennis Lindsey has emerged as a strong candidate in the search, league sources told Y! Sports. Cleveland Cavaliers assistant GM David Griffin had talked to Utah, but is no longer under consideration, sources said. Oklahoma City Thunder vice president and assistant GM Troy Weaver had been the No. 1 target for the search, but has decided to stay in Oklahoma City, sources said.
Utah has long been considered a model small-market NBA franchise and O'Connor helped the Jazz handle a tough stretch in recent years: Jazz owner Larry H. Miller died in 2009, Hall of Fame coach Jerry Sloan abruptly resigned amidst reports of locker room drama in 2011, and the team felt compelled to trade franchise guard Deron Williams to the New Jersey Nets rather than deal with his impending free agency.
In 2011-12, the first full season without Williams, a young and energized Jazz team loaded with O'Connor's draft picks and trade acquisitions qualified for the playoffs under new coach Tyrone Corbin.
O'Connor has led Jazz basketball operations since 1999. In the 13 seasons since he took over, the Jazz have qualified for the playoffs nine times. Utah is consistently among the league's leaders in home attendance as well.
The Cavs ultimately got a good haul for Irving, but could have landed the Dubs' All-Star s...

The King acknowledged the mega trade late on Tuesday, calling Kyrie a 'special talent/guy'

Winger reportedly accepted the job after being offered last week
Irving isn't only switching teams, but also numbers

Irving made it clear he wanted to start camp on a different team, and the Cavs made it hap...

James, and the other principals, will be judged by what comes next for the Cavaliers and C...