Reports: Wolves considering Mitchell, not interested in Karl
Minnesota's coaching search is kind of complicated.
• 1 min read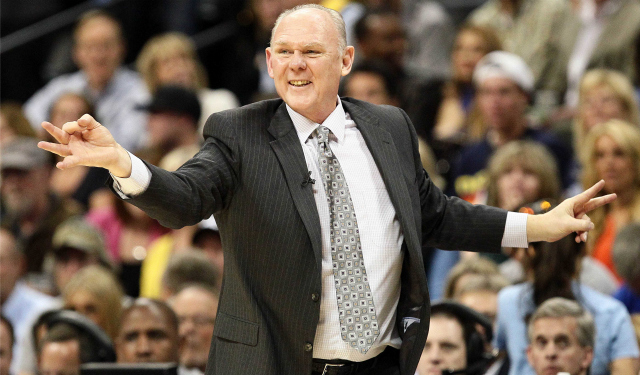 More Offseason Analysis: Coaching changes, news | Free Agency | Draft
The big Minnesota Timberwolves news of the day is that they are reportedly looking at trading superstar Kevin Love, but recent developments with their coaching search have also come to light. Sam Mitchell, a former Timberwolves player and former Toronto Raptors head coach, met with Minnesota president Flip Saunders recently and "has emerged as a serious candidate," according to Yahoo Sports' Adrian Wojnarowski.
Saunders "doesn't appear interested" in ex-Denver Nuggets head coach George Karl, and interviewed ex-Memphis Grizzlies head coach Lionel Hollins almost three weeks ago, according to the Star Tribune's Jerry Zgoda. Conversations involving college coaches Tom Izzo, Fred Hoiberg and Billy Donovan reportedly never got serious.
The best option in the end might be for Saunders to return to the sidelines himself, but according to Zgoda, he would have to convince Timberwolves owner Glen Taylor that it is the right call. Saunders is also reportedly considering going with a veteran coach such as P.J. Carlesimo or Scott Skiles.
The situation with Love complicates matters. Minnesota would like to use a new coach as a selling point for Love when discussing his future there, but prospective coaches are "leery" of coming to a team that appears on the verge of losing its franchise player, according to Wojnarowski. It's still early in the process, but it's far from an easy problem to solve.
If Love really does want out, it's unlikely the mere presence of any coach on the market would be enough to change his mind. That would take some roster moves and some winning, like was seen with the Portland Trail Blazers and LaMarcus Aldridge this season.
Multiple players said the meeting did not go well

The Cavaliers, you might have heard, are slipping

Here's how to watch Jimmy Butler and the Wolves take on Blake Griffin and the Clippers
James Harden, Chris Paul take on one of the hottest teams in the Eastern Conference

We've got all the scores, highlights and news from all of Sunday's games

The Rockets beat the Warriors 116-108 on Saturday night