Reports: Wolves will keep Anthony Bennett, not trade him to Sixers
It looks like 2013 No. 1 overall pick Anthony Bennett will play in Minnesota next season.
• 1 min read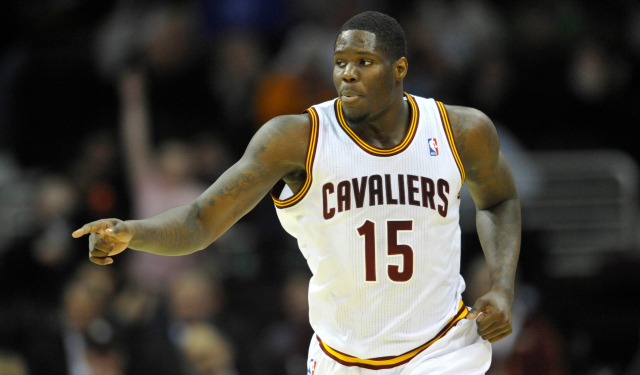 Contrary to an earlier report, it looks like Anthony Bennett will spend next season with the Minnesota Timberwolves. Multiple reports indicate that Minnesota wants to keep the 2013 No. 1 overall pick, rather than trading him to the Philadelphia 76ers for forward Thaddeus Young.
Just a reminder: if you keep reading Bennett is headed to Philly for Young in forthcoming trade...don't believe it.

— Jerry Zgoda (@JerryZgoda) August 20, 2014
Wolves beat guys have been all over this, but FWIW, have heard from 2 sources Anthony Bennett staying in Minny, Thad Young still going there

— Ryan Wolstat (@WolstatSun) August 21, 2014
A third source confirms Anthony Bennett is staying in Minnesota, not heading to Philly.

— Ryan Wolstat (@WolstatSun) August 21, 2014
Trading Bennett seemed like a curious move from the beginning -- he had a miserable rookie season with the Cleveland Cavaliers, but surely Minnesota could afford to give a guy with his potential time to prove he can be effective in the NBA, especially after the signs he showed at summer league. If you have Zach LaVine, Andrew Wiggins and Bennett, you have the building blocks of an exciting, up-and-down team. 
If Young is indeed still headed to Philadelphia, you'd have to think at least one first-round pick would be going the other way. While Young is a solid stretch-four, the Timberwolves might be better served to just be patient and go with the guys they have. Let's wait and see what all of these teams look like when these moves go down, though.
It's just two days from Aug. 23, when Wiggins can be officially traded. At that time, the deal that is supposed to send the last two No. 1 picks to Minnesota in exchange for Kevin Love is expected to be completed.
Trump rescinded Curry's invitation to the White House after Curry said he wasn't interested...

Silver said he was hoping Warriors would get chance to share their views directly with the...

Along with the Thunder, those were the three teams most involved in the Anthony trade talk...
LeBron said he was frustrated by the President's recent actions

A look at the various actors and elements in the latest sensational blockbuster trade in the...

Blockbuster deal doesn't change the Thunder's projected finish in the West