Return of Rose, Bryant, Westbrook will spice up season early in NBA
Training camps are opening and some of the best storylines revolve around the health of key players and a couple of beefed-up teams in the East.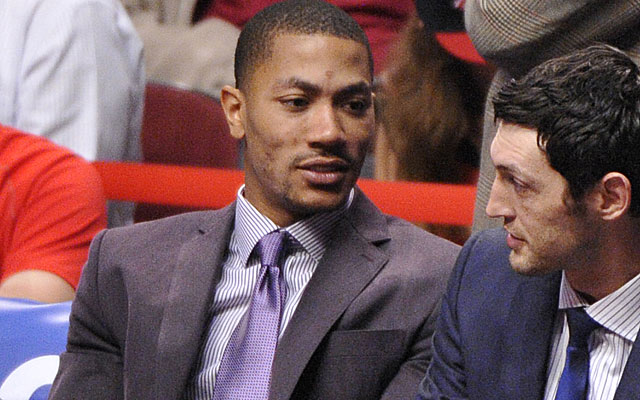 It seems like yesterday when the San Antonio Spurs were choking away the best chance anyone may have at stopping the Miami Heat dynasty.
Seriously, was it really three months ago when the Spurs had the Heat dead to rights in Game 6 of the NBA Finals in Miami? When the drum section that pounds away incessantly in the upper deck fell quiet? When middle-aged men wearing skinny jeans and uncomfortably tight shirts (unbuttoned to display chest hair nobody asked to see) evacuated the arena and headed toward the clubs in droves?
So much has happened since then. The Heat forced Game 7 and won Game 7 to clinch their second straight championship. Their various nemeses on the Boston Celtics split up' with Kevin Garnett and Paul Pierce going to the Brooklyn Nets and Doc Rivers to the Los Angeles Clippers . Dwight Howard left LA. So did Metta World Peace , though not by choice.
The Indiana Pacers kept their dangerous young core together, and the New York Knicks added to their old core. The Heat basically stood pat, poised for a run at a third consecutive championship before luxury-tax hell and LeBron James ' next free-agent decision hits them next July.
Somehow, in what seems like five minutes after all those things happened, it's time to do it all again. NBA training camps begin opening Friday for teams that are traveling overseas during preseason. By early next week, all 30 teams will be back on the practice courts, preparing for the nine-month grind ahead.
And to the uninitiated who think those nine months will be spent enjoying and discussing basketball, I say, LOL. The next nine months, of course, will be spent hashing and rehashing and wildly speculating on where James will go as a free agent next July if, indeed, he decides to opt out of his contract. Hey, don't kill the messenger' and don't say I never warned you.
The only storyline that will come close to Decision 2.0 will be the race to tank for optimal positioning in the 2014 draft, which promises to be the best since the LeBron draft in 2003. And really, when you think about it, what's more entertaining than watching numerous professional sports organizations do their absolute best to be as awful as possible? It's got to be better than watching some of those same teams actually try to win, only to be terrible by accident.
So, with the NBA cranking up again for an entire season of hype for two events that won't happen until the middle of next year, here are a few of my favorite storylines heading into training camp 2013:
Derrick Rose

returns

It's been 518 days since Rose went down with a torn ACL in the 2012 playoffs, and he's finally back. Unless Howard demands a trade at the Houston Rockets ' media day, Rose's long road back to competitive basketball is without a doubt the biggest story of the NBA preseason. After a week of practice, Rose's first game action since the injury will be the Chicago Bulls ' preseason opener on Oct. 6 at Indiana. He's been missed.
Kobe Bryant

's comeback

We won't see Bryant on the court in a game in the immediate future, but the buildup to his eventual return from the ruptured Achilles' tendon suffered last May will be the most fascinating storyline on either side of Chicago. Bryant, the proud champion, blazing a trail back to the court after such a devastating injury' with a Los Angeles Lakers team that most people incorrectly believe will be non-competitive, is way more interesting than how his former teammate, Howard, does on the Rockets.

If I had to guess -- this is only a guess -- I'd say Bryant will be back in time to work off the rust for a few games before the Lakers host the Heat on Christmas Day.
Russell Westbrook
Sticking with a theme, Westbrook will be overshadowed by Rose and Bryant, but his return to the Oklahoma City Thunder is no less important. It may be a case of everyone, especially his teammates, learning during his absence just how valuable and important he was (and is).
Knicks-Nets rivalry
The Nets loaded up, luxury tax be damned, with expensive star power that makes them as big a threat to Miami as anyone in the East on paper. The Knicks are trying to hang onto their newfound perch atop the Atlantic Division, and atop the city where the rivals will jointly host All-Star weekend in 2015.
James Dolan's Knicks clearly are feeling the pressure, shaking up their front office on Thursday when they ousted GM Glen Grunwald and replaced him with former longtime Madison Square Garden executive Steve Mills. Dolan had no trouble looking past Mills' tumultuous prior reign as the president of MSG Sports during the Isiah Thomas era, and it's no surprise why. Since leaving MSG, Mills has been working with high-profile athletes as a wealth-management consultant. His strong ties to star NBA players and those who wield the most influence with them' including power brokers connected to Carmelo Anthony 's agents at Creative Artists Agency' could help the Knicks retain Anthony as a free agent next summer and attract a high-level sidekick or two down the road.
The Knicks and Nets don't play each other in the preseason; their first matchup of the regular season will be Dec. 5 at Barclays Center.
Doc Rivers' new beginning
The Nets will be involved in several other high-profile games over the next couple of months, including two preseason matchups against Garnett and Pierce's former team, the Celtics. In the second game of the regular season, they'll host the defending champion Heat on Nov. 1. But none of them will come close to the buildup generated when they visit Rivers' new team, the Clippers, on Nov. 16. That's when Rivers' shift from Boston to LA will finally sink in for all involved. The NBA schedule-makers also cleverly assigned the Clippers a back-to-back at Boston and Brooklyn on Dec. 11-12. Until then, Rivers imposing his championship influence on the Clippers will be a phenomenon to behold from the first day of practice.
The
Cleveland Cavaliers
I only lived in Cleveland for two years, but I have a soft spot for the Cavs. I'm not talking about LeBron's Cavs' I'm talking about the Brad Daugherty-Mark Price-Hot Rod Williams Cavs that always wound up getting punked by Michael Jordan and the Bulls. Four years after Cleveland got punked by LeBron, the Cavs might actually be back. With a blossoming star in Kyrie Irving and an intriguing supporting cast, the Cavs' decision to rebuild patiently in the wake of LeBron's departure has paid off. Now all they have to do is get James to come back as a free agent.
New rules
Several wrinkles were added to the rulebook for the 2013-14 season, and after attending the media officiating seminar in Newark, N.J., on Thursday, a couple of important changes stand out.
First, when officials review a block-charge call to determine where a defender was positioned with respect to the restricted area, they will now be able to reverse a charge call or uphold a block if the defender was not outside the restricted area when the offensive player started his shooting motion. This does not mean all block-charge plays are reviewable; it remains the case that only calls made based on the defender's positioning with respect to the restricted area in the last two minutes of regulation or overtime can be reviewed.
Another welcome change: Officials will now be able to reverse off-ball fouls if replay shows that the shooter had not yet begun his shooting motion at the time of the contact. Same goes for off-ball fouls on inbounds plays when replay shows the inbounding player had not released the ball at the time of contact. I don't think it'll come up much, but officials also will now have the latitude to assess technical or flagrant fouls they see on video replay when reviewing an unrelated play.
As far as points of emphasis, the one that will come into play the most is delay-of-game violations when offensive players redirect the ball (i.e. toss it to the ref or bounce it out of bounds) after a made basket. League officials say it happened 214 times during the playoffs last season. Blowing the whistle on such shenanigans will speed up the game. Another good one: A team will lose possession if an offensive player goes out of bounds and does not return to the court immediately (with exceptions, of course, for injury and other circumstances that can't be avoided.) Seems like a small thing, but this is a tactic that the Denver Nuggets started using a couple of years ago to further spread out the floor and confuse the defense. Last season, league officials say 11 teams used the tactic.
Transfer of power
David Stern may not be stepping down as commissioner until Feb. 1, but the transition to Adam Silver already is well underway. Silver, the deputy commissioner, has long wielded strong influence in league business, especially as the lead negotiator of the NBA's TV and labor contracts and visionary for its international growth. Now, we begin to get a glimpse of what an NBA with Silver as commissioner will be like.
One early sign: According to league sources, Silver has begun to play more of the bad-cop role in certain negotiations. In a recent meeting on league business, Silver was feisty and combative while Stern kept his distance and couldn't have been nicer, one person familiar with the talks said. Sounds like the new boss is going to be a lot like the old boss.
For more, here are our team-by-team position battles: EASTERN CONFERENCE | WESTERN CONFERENCE
Golden State led by 17 on ring night, but they missed Draymond Green and Andre Iguodala in...

Durant's shot rimmed out and the champs lost; Hayward's awful injury overshadowed the Cavs'...

Chris Paul sat out the fourth quarter of the Rockets win due to an apparent knee injury
Durant couldn't quite get the shot off in time, and the Rockets prevailed

Draymond Green walked off the floor limping and rubbing his knee in the third quarter

Golden State raised its second banner in three years. Now they start their run for another