Returning to scene of last year's heartbreak, Spurs take 2-1 lead
MIAMI -- Returning to the scene of last year's Finals heartbreak, the Spurs emerge with a performance -- and a result -- worthy of who they've been all these years.
More postseason coverage: Playoff schedule, results | Latest news, notes
MIAMI -- The Spurs had waited almost a calendar year -- 357 days, to be exact -- to come back here and finally bury the heartbreak in Game 6 of last year's Finals. Collectively, they are a machine, with seemingly no memory or emotion.
Then you remember, they're human.
How could your entire season be based on getting back here and erasing the memory of having your fifth championship wrenched away by Ray Allen's 3-pointer in the corner, and not think about it? Not talk about it?
The path of least resistance is always to attack, and the Spurs came out Tuesday night with a ferocity and precision that spoke for them. We expect and enjoy individual greatness but you don't get that from the Spurs. And what they give you is a reminder that team greatness is more gratifying.
More impressive.
They moved, they cut, they poured it on -- 13 of 15 in the first quarter, 19 of 21 in the first half, both records for any quarter or half in the Finals. Holding on in the face of a Miami comeback that fell short, the Spurs surely looked like a team on a mission for redemption with a 111-92 victory that gave them a 2-1 lead in the series.
Except they're too smart to fall into that trap.
"It's a good start," said Danny Green, who missed only one of his eight field goal attempts. "We know we've got a long way to go."
They've come so far since the latest championship in this incredible run got away in Game 6 and then in Game 7 of last year's Finals. They buried that memory when they reconvened for training camp, a sort of mandated catharsis instituted by Gregg Popovich. By the time they got back here, to the scene of the crime, it was as though it happened a lifetime ago.
"We haven't talked about it," Boris Diaw said. "We didn't talk about it today. The building didn't give us that memory."
The last time the Heat lost a playoff game at home was Game 1 of last year's Finals against San Antonio, an 11-game winning streak crushed under the weight of the Spurs' precise aerial attack. Miami is 38-8 at home in the postseason in the Big Three era, and two of those losses have come against the Spurs.
"We know we can win in this building," Diaw said.
In Game 2, LeBron James unleashed the full force of his individual greatness, and we marveled the way we used to marvel at Michael Jordan, the way we've marveled at Kobe Bryant in these moments. The Spurs did that as a team in Game 3, a display of basketball artistry that is so much more rare -- and so worth celebrating.
"They share the ball extremely well and those guys are always in the right spots," James said. "I mean, if they ran a set and closed their eyes, they know exactly where the guys are going to be at."
The star, if there was one, was Kawhi Leonard -- he of the few words and the "blank face," as Diaw put it. Leonard is the least talkative player in the NBA, and it's not even close.
Which makes him the perfect Spur.
"He talks to us," Green said, "here and there."
On the day before Game 3, Popovich did the talking -- a stern plea for Leonard to be more aggressive, to assert himself in the series before it's too late. Another passive performance from Leonard, another game that got away in Miami, and those ghosts from Game 6 would come flooding back.
Leonard scored 29 points, making 10 of 13 from the field, and hounded James relentlessly on defense all night. On this stage, it was a far cry from the Leonard that Tim Duncan first met during the 2011 lockout, after the Spurs acquired him in a draft day trade for George Hill.
"He came down and worked out with us when we were here, before the team was together," Duncan said. "So I kind of got an early look at him. I thought he had a lot of work to do. ... But Pop and the guys saw something in him and they allowed him to kind of develop and find his own way."
The Spurs found their way back to Miami, as they vowed to do when Popovich gathered them for the first meeting of training camp. This time, they walked out of the building with a performance worthy of who they've been all these years.
Now, they know they have to do it again.
"We have to sustain it now," Tony Parker said.
Three hundred, fifty-seven days later, there is still work to do.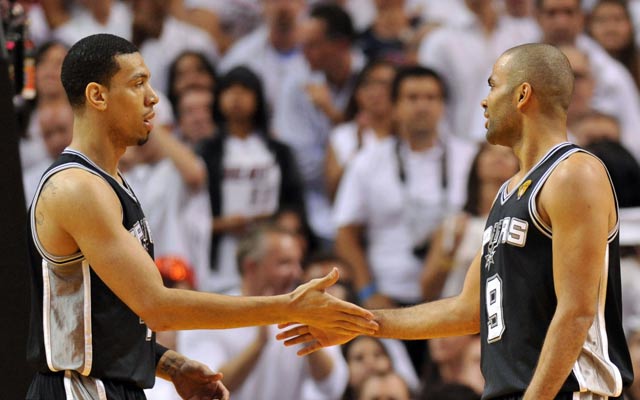 LeBron's minutes are a common point of discussion this season

Kevin Garnett thinks a one-and-done rule change would benefit schools more than anything e...

The Warriors are light years ahead, but James Harden is off to a red-hot start with the Ro...
Victor Oladipo is playing the best basketball of his career, and it all came together against...

McCollum hurled a clever insult at the French forward

Hosts Bill Reiter and Reid Forgrave are joined by Blazers guard CJ McCollum