Returning to the scene of Linsanity, Lin glad he left circus behind
NEW YORK -- Having finally achieved normalcy, Jeremy Lin returns for the second time to where Linsanity began -- and he's having more fun than ever.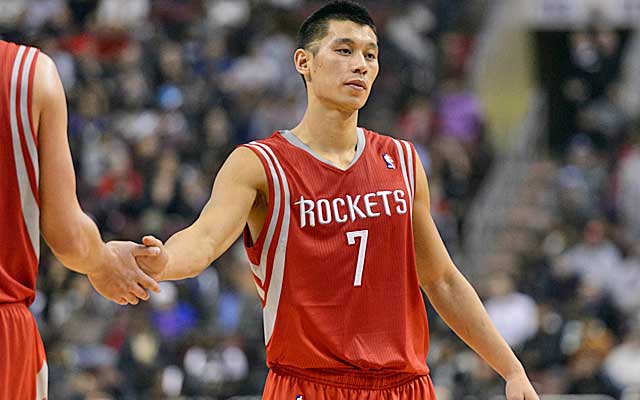 NEW YORK – Ninety miles to the south, Jeremy Lin was racing up and down the court and doing thrilling, improbable things again. This was unfolding on my office TV, thanks to NBA League Pass. The guy wearing No. 7 was starting to look familiar.
A week ago in Houston, Lin had smiled and interrupted me when I began a question with a reference to some of the numbers he was putting up. There hadn't been anything crazy yet – nothing worth starting another global phenomenon – but some measures of Lin's production were trending in the right direction, for sure.
They were dorky numbers, I'll admit – things like effective field-goal percentage and turnover ratio, numbers that the Rockets' stathead GM, Daryl Morey, has the arena folks display on the giant scoreboard during games at Toyota Center. Lin wanted no part of the discussion.
"Oh, don't tell me any of the numbers," Lin said on the Rockets' practice floor.  "I don't want to know any of the numbers."
Lin was about to embark on a three-game stint coming off the bench for Kevin McHale's Rockets, who are searching for the right combinations after pairing Dwight Howard with James Harden this past summer – to go with 2012 restricted free agents Lin and Omer Asik. That stint ended Wednesday night in Philadelphia, where Harden needed the night off to deal with painful, nagging injuries to both feet.
Back in the starting lineup with the ball in his hands again, Lin was sensational – 34 points, 12 assists, 9-for-15 from 3-point range. Of course, there were the eight turnovers, but so what? That's a number he approximated regularly during the height of Linsanity with the Knicks two seasons ago.
This performance in Philadelphia, coming on the heels of a 31-point outburst off the bench against Toronto two nights earlier, also was dampened by an overtime loss to the impressive Sixers. But two seasons after Linsanity, very little can dampen Lin's enthusiasm for the fresh start he's gotten in Houston – the opportunity to be an important part of a winning team, not the ringleader of a circus in New York.
"Am I more comfortable? Yeah," Lin said. "It's my second year with the same team, back in the same system that I was in last year. So I think as the season progresses, we'll all get hopefully more and more comfortable in this system and playing with each other. I think Dwight and the guys who just came in, they're just trying to figure it all out."
With Patrick Beverley emerging as a potent wing defender and playmaking threat, and with Harden dominating the ball when he's healthy and on the floor, it isn't clear yet where Lin fits with this Rockets group. But as Houston  visits the Knicks at Madison Square Garden on Thursday night, a couple of things could not be more clear: 1) Lin is better off with the Rockets than he was with the Knicks; and 2) the Knicks could sure use him now.
"Guys have given me a great opportunity to play basketball," Lin said. "… A couple of years ago, I didn't even think I was going to be in the league anymore. I'm just trying to take each day, be thankful for every opportunity. I still get to play basketball for a living in the best league in the world. So I'm just trying to go out there and have as much fun as I can."
As much as Lin's improbable run from imminent waiver victim to global sensation could only have happened in New York – and under the exact set of circumstances that existed here then – he would not necessarily describe that time in his basketball life as fun. Eventually, he crumbled under the physical demand of the sudden burst of playing time and stardom. Garden chairman James Dolan blinked in the face of Morey's poisonous, $25 million offer sheet. The Rockets had a point guard with potential, and with an impossible standard to live up to in his new home.
"He had an unbelievable run in New York, and I think sometimes everybody thought, 'Well, geez, that's going to be the … you know, that's his career,'" McHale said. "But it's hard to maintain that. I think he's comfortable with who he is. I think he has played better this year – his thrust to the basket, he's breaking people down. He's doing exactly what we want him to do."
The Knicks? They have begun to come to terms with some hard truths about the road they've embarked upon since those thrilling weeks of bliss inspired by Lin in February 2012. When Linsanity inevitably sputtered, they ran off the only coach who could've made it happen, Mike D'Antoni. The new coach, Mike Woodson, still runs D'Antoni's offense – portions of which nearly every NBA team runs now – but is nonetheless feeling the heat from Dolan. During an uninspired, 3-4 start to what is a make-or-break season in a dysfunctional franchise's latest attempt to reinvent itself, Woodson will be the next guy thrown overboard as the deck chairs once again get rearranged on the Titanic.
Tyson Chandler is out 4-6 weeks with a fractured leg, and a former teammate warns that Knicks fans shouldn't be hopeful that he beats that timetable. "He's a slow healer," the former player said.
Amar'e Stoudemire is a shell of himself, and a rival executive says that Knicks fans should not count on him regaining his All-Star form. "He's done," the executive said. "The Knicks' only hope is to try to get someone to take him." And, with Stoudemire's frail knees and uninsured contract, the only way that happens is if the Knicks dangle whatever draft picks they haven't traded yet and hope someone will do them the favor of fleecing them.
Carmelo Anthony is saying all the right things and doing all the things he's always done – namely, scoring a lot of points on a team that isn't going anywhere. Melo can and will become a free agent after the season, and if the Knicks continue to sputter, the result will be an epic implosion as Dolan and company man Steve Mills sprain their fingers pointing them. It will set off another series of desperate, nonsensical moves aimed at achieving an outcome of dubious value to the supposed goal of winning a championship – this time, keeping Anthony from turning down their $129 million max offer after the season.
All the while, Lin continues to grow and have fun playing the game that gave him the platform to surprise himself and inspire the basketball world two seasons ago.
"I think he's played pretty well this year," McHale said. "As a matter of fact, I think he's played better this year than he did at any point last year."
As Lin returns to where it all began for the second time since leaving New York, the event will be framed by the normalcy he's finally been able to achieve. For Lin and those who witnessed it, there will never be anything like Linsanity.
The most insane part, perhaps, is that he's having more fun now.
The Kings' big man says he was wrongfully arrested in August for possessing marijuana with...

George appeared to show some frustration with the Pacers following the trade to OKC

It's worth wondering whether or not Wade will be in the Cavs' starting lineup
Nurkic is confident Portland will be a tough team to beat, and says it must begin on defen...

Wade, recently bought out by the Bulls, could finalize decision as early as Wednesday

James said nothing has changed from 2014 when he said he'd retire a Cav