Richard Parsons: 'Doc is the man on the basketball side'
The new Clippers CEO outlined his responsibilities in a few interviews after accepting the job.
• 2 min read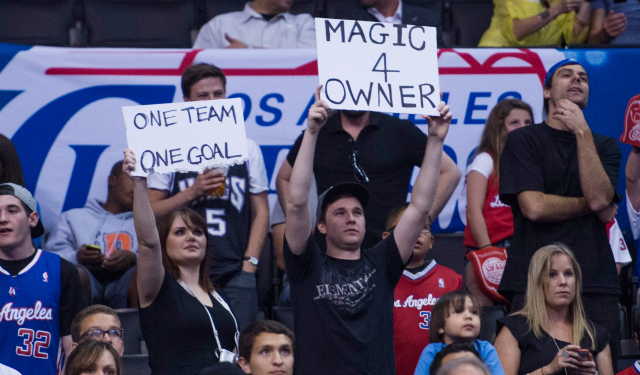 More: Sterling banned for life | Latest updates | NBA news
UPDATE: Parsons talked to Ramona Shelburne of ESPN, and said this about Shelly Sterling: "I have not spoken to her, but obviously I'd plan at some point in time to reach out to her. Obviously she's a big fan of the team, she has an ownership interest, she has not been banned from anything. So our style is to try and work cooperatively, collaboratively and collegially with all the stakeholders. All the stakeholders who haven't been banned."
After being announced as the new CEO of the Los Angeles Clippers, Richard Parsons conducted interviews to explain his role. With Clippers owner Donald Sterling banned for life, the former chairman of Citigroup and former CEO of Time Warner said he will represent Clippers ownership when dealing with the NBA, via the Los Angeles Times' Broderick Turner.
Doc [Rivers] is the man on the basketball side. Thank goodness for him. But in terms of operation of the team, well, you don't have an owner who can be present and you don't have a CEO who is running the shop. And you have probably hundreds of employees, a score of players, you have advertisers, fans and ticket holders who are saying, 'Who's in charge here? Where is this thing going?' We're going to try and answer that question for them and settle things down and get things stabilized and make sure that this franchise does not lose value. We want it to continue to move in an ascending direction as it has been."
In an interview with David Aldridge of NBA.com, Parsons said that he has no intention of owning the team. According to Aldridge, Parsons spoke with Rivers for the first time on Friday and will arrive in Los Angeles next week to get things started.
"The short story is I got a call on Monday from the Commissioner's office to see if I could come down and see Adam," Parsons said. "He outlined the dilemma and his thinking about it and asked me if I was willing to help out and step into this role. I am a fan. With all due respect to baseball -- and I used to run Time Warner when they owned the Braves...basketball has become, let's put it this way, on equal standing. I'm a big fan.

"Somebody has to be in charge," he said. "It's an organization, and it functions like other organizations. There has to be a leader, somebody who decides do we go left, do we go right, do we go up, do we go down, puts his arm around the people who are involved and tell them that they're appreciated. I hope I can do that."
Meanwhile, a two-year-old The Daily Banter story by Mark Ames, which paints Parsons poorly to put it mildly, has been making the rounds on social media.
If there's any justice, the basketball gods will give us the Golden State-OKC playoff series...

Pachulia fell onto Westbrook in a questionable manner during Saturday night's game

Pachulia fell onto Westbrook after they both got tangled up with Nick Young
Butler suffered the injury on Friday night against the Rockets

The extent of Butler's meniscal injury isn't yet known, but there's reason for Wolves fans...

No timetable was provided for Butler's recovery