Rick Barry maintains Ray Allen traveled on Game-6-tying 3
Rick Barry adamantly says Ray Allen traveled on the game-tying three-pointer in Game 6 of the NBA Finals.
In an interview with Hot Hot Hoops, NBA legend Rick Barry is continuing his stance that Ray Allen traveled on the game-tying three in Game 6 of the NBA Finals,  one of the biggest shots in NBA history, and one that saved Miami's season, eventually leading to their second championship of the LeBron era.
What are your general thoughts on the Miami Heat championship and the 2013 NBA Finals?

They were very fortunate to win the championship. They had a great season, had that incredible run with all those consecutive victories which I don't care where you're playing or who you're playing against, that's still a great accomplishment. They were fortunate enough to be able to repeat as champions which is a very difficult thing to do. They got a little help from San Antonio and from an official who swallowed his whistle on Ray Allen's travel on the 3-point shot that tied the game in Game 6. Otherwise the Spurs would have been the champions and nobody talks much about that. But that's a part of what happens in the game and you have to credit them for responding as they did and being able to come away with a victory.


You just mentioned that you think Ray Allen travelled on that corner 3 at the end of Game 6...

There's no question about it, just watch the replay that they showed from the overhead camera. He catches the ball with one foot down, steps back, brings the foot that he had down back to shoot the ball. That's traveling, you can't move your pivot foot without dribbling.

Do you think the ref saw that and chose not to interfere with such an important moment of a championship game or did it happen so quickly Allen's shuffle to that spot looked legit?

It happened so quickly that the official just saw Ray doing it and he was looking down probably just to see if he got behind the three-point arc. It was a great shot, but they didn't call it so it doesn't matter. They got away with it, so lucky them.
So... in the above video, you get an overhead shot. Here's the exact moment Allen catches the pass.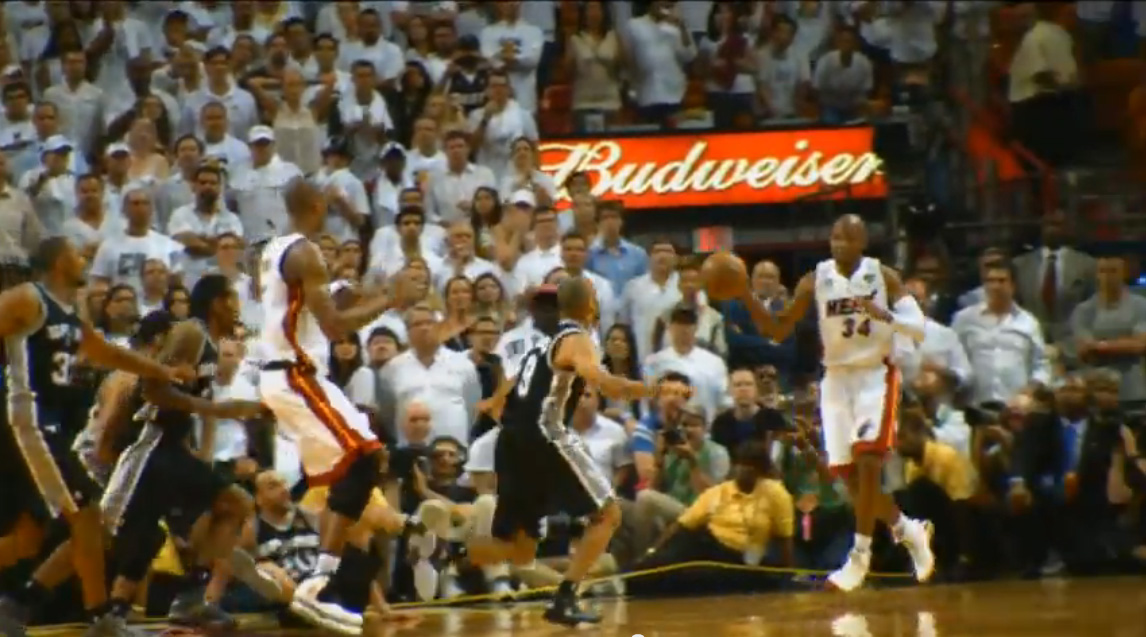 You'll notice both feet are on the air. That's a key element here.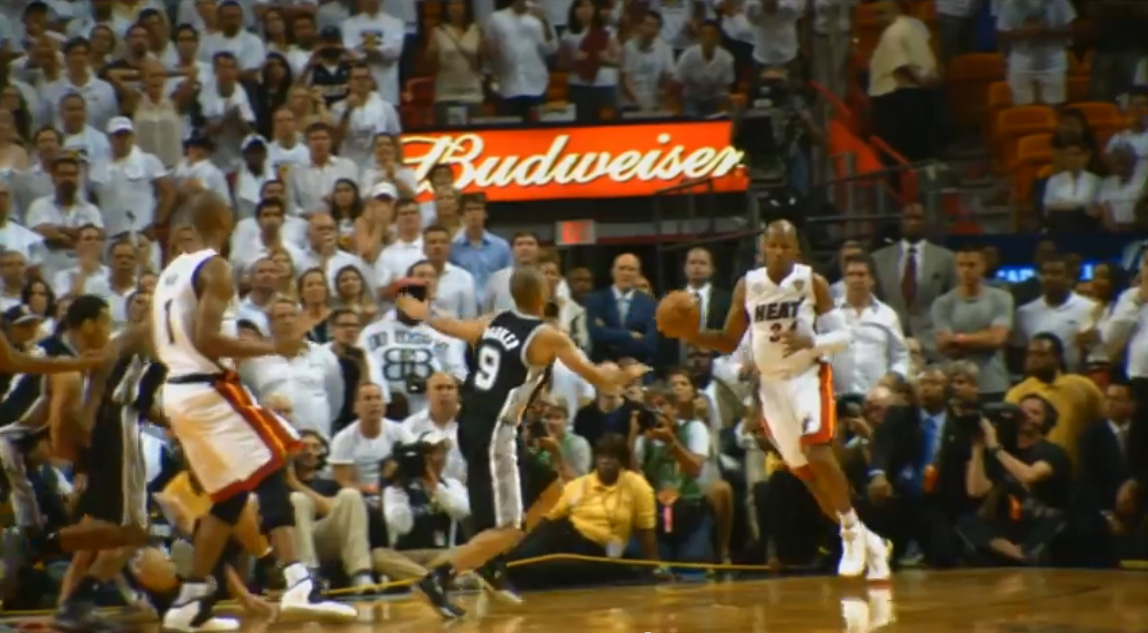 There's the first step after the ball reaches his hand.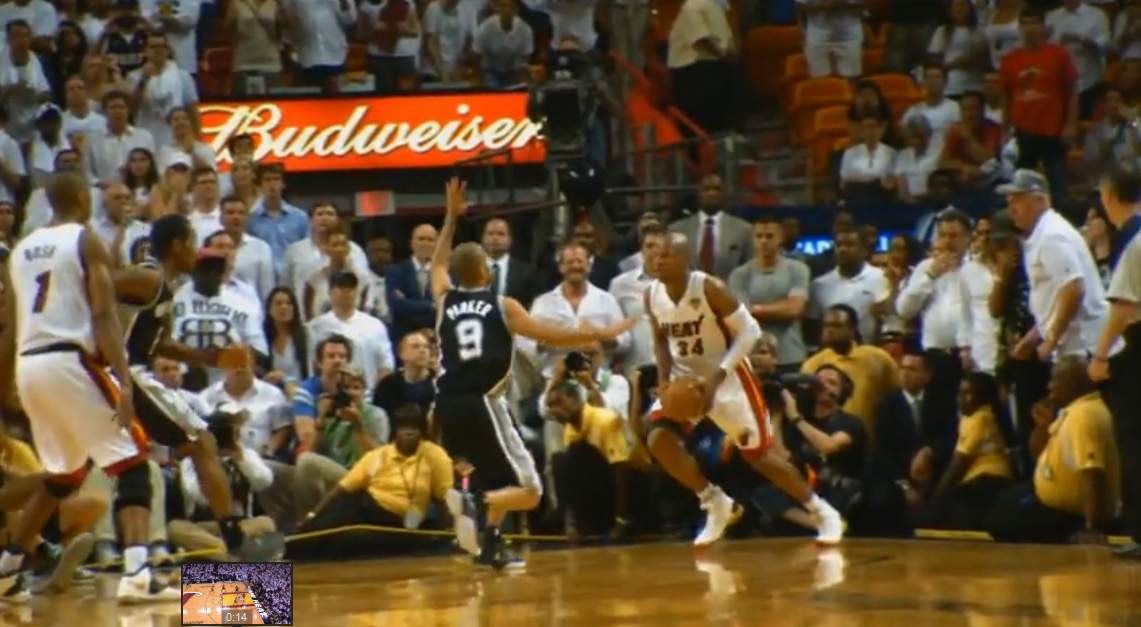 Step two to get his left foot behind the line. And...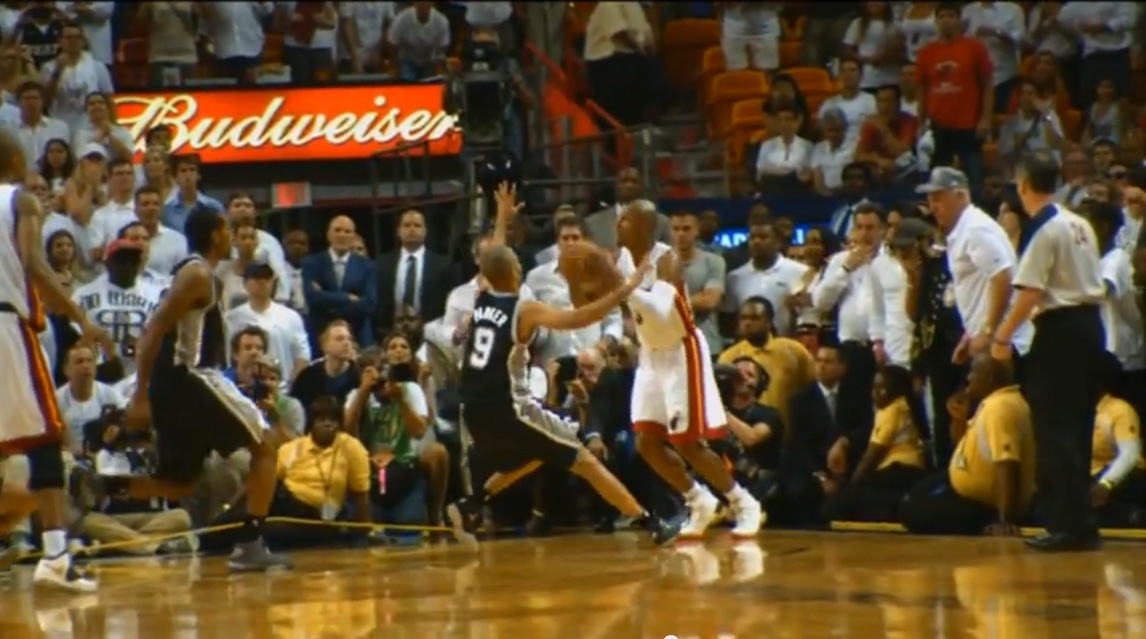 There's step three before the shot. 
So it was a travel?
NOT SO FAST, TRUE BELIEVERS! 
From our own Zach Harper of CBSSports.com: 
It's not a travel because as Ray Allen is catching the ball, he's taking the first of three steps. However, he hasn't established possession of the ball as that first step is coming down. It's essentially the catch version of a gather dribble on a drive to the basket. Once he's established definite possession of the ball, he can take the two steps but because it's so bang-bang on the first step, it doesn't count as a step with the ball.
The question of possession is really tricky, really subjective, and fairly complex, but Harper's explanation makes sense to me. Especially when you see this capture of when the ball arrives.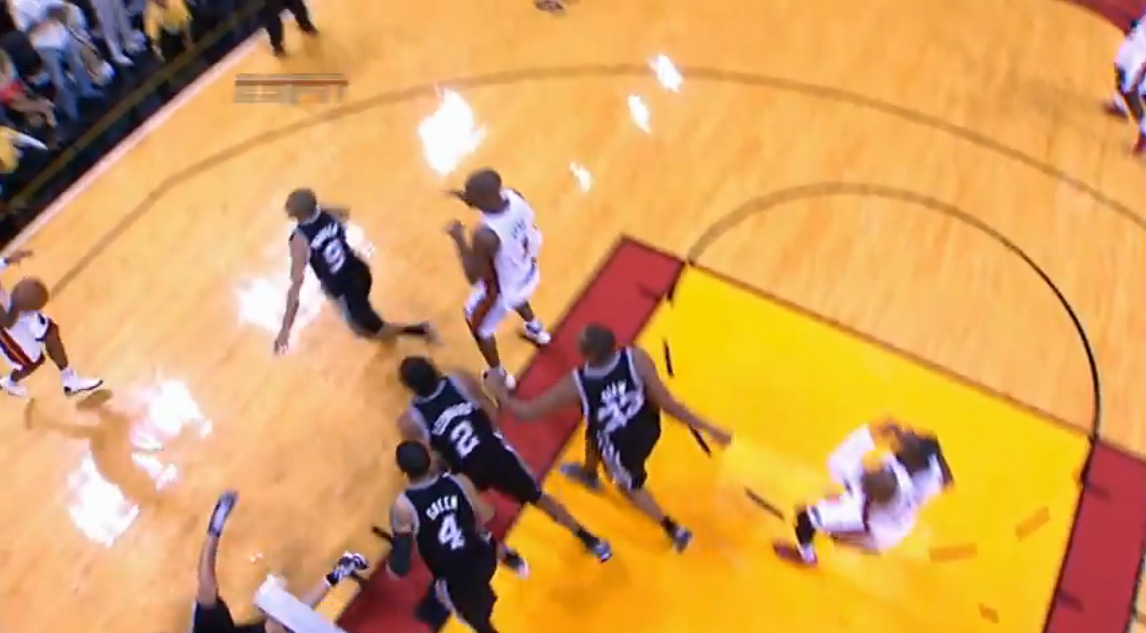 If you click on that one, you'll see what certainly looks like the ball arriving as his toe touches, which would eliminate all concern. Either way, hard to argue that he "has" possession here. 
On a deeper level, though, this is one area in which advanced technology, better media coverage, and the internet may have dampened the ability to love sports a bit.  How many great shots in NBA history could be argued the same way, even beyond the totally obvious push-off by Michael Jordan on Byron Russell? This is one of the iconic shots in NBA history, and it's called into question based on how you interpret the "concept" of possession. 
I can still think this was a legal shot based on interpretation, but on some level, the play is called into question and it loses some of its mistique. It's almost enough to make you wonder if ignorance really is bliss. 
The younger Ball brothers are heading to BC Prienai, but that could spell trouble

Keep it right here for all of the news, notes, scores, and highlights from around the Asso...

SportsLine's advanced computer model simulated Tuesday night's Lakers-Knicks game 10,000 t...
The Reno Aces are concerned about the new WNBA franchise stealing their thunder

Hinkie parted ways with the 76ers in 2016 after drastically changing the direction of the...

SportsLine's Mike McClure, a DFS pro with more than $1M in winnings, gives optimal lineup...