Rick Barry to Happy Thanksgiving: Journey down the rabbit hole
It's a weekend of gluttony with the Thanksgiving feasts for many basketball fans. Here's a little more to digest with this week's rabbit hole journey.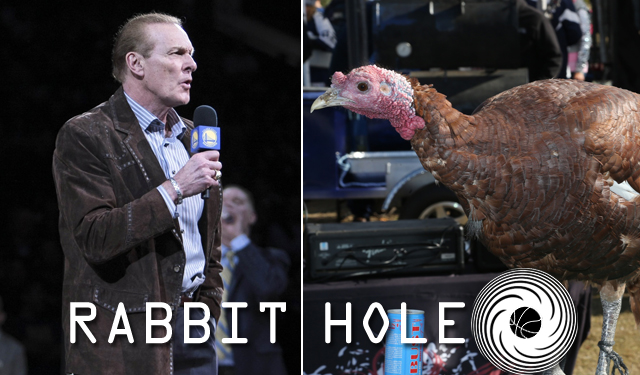 For those of you that celebrated Thanksgiving on Thursday, I'm sure you're feeling a bit guilty right now. An extra helping of sweet potatoes and a piece of pie the size of a slice of New York style pizza probably sent you into a food coma as you pretended to care about the Steelers-Ravens game Thursday night. Now you're probably feeling motivated to hit up some shopping specials at a mall near you or go to the gym to work off some of that turkey dinner. Don't do it! Bask in your gluttonous ways of yesterday and just relax on the couch.
Let the rabbit hole journey be your workout for the day.
First Stop: The fascinating Rick Barry
Dave Hollander of Slate.com wrote a pretty incredible profile on Hall of Famer Rick Barry. Throughout the piece, you get some insight into the personality and the controversy that Barry had surrounding him throughout his time in the professional basketball world. From his playing career to announcing to coaching to being a radio personality, Barry has shown great knowledge and talent in whatever he's doing while still finding a way to alienate quite a few people. While he's been controversial in many respects, he was a trailblazer in court as much as he was on the court.
The NBA used to have something in their contracts called "the reserve clause." Essentially, after a contract was finished, the player would have to continue playing for that team for an extra year. If they still had that today, it probably would have made that 2010-11 season for LeBron James and the Cleveland Cavaliers pretty awkward. However, Rick Barry was one of the pioneers in blowing up that system. He jumped from the NBA to the ABA after averaging 35.6 points per game in his second season. However, because of the reserve clause Barry ended up having to sit out the 1967-68 season in both leagues before he could play again.
The ruling was that Barry had to play for the Warriors or sit out a year. Barry chose to sit. He chose principle. He chose sacrifice. He lost his case (as did Curt Flood), and missed a full year in the prime of his career, which became two years after an injury sidelined him for most of the following season. What was the gain for Rick Barry? A lost two years and, after the Oakland Oaks folded, a series of transactions that led him to teams and places he never wanted to go. And what was the gain for everyone else?

The ABA had its first NBA player and a legitimate jumping off point to launch a bidding war. That bidding war gave players an option to choose between leagues. It increased their average salaries from $18,000 in 1967 to $110,000 in 1975. When the NBA wanted to stop the spending madness by merging with its rival league, do you know who blocked it? The NBA players. Why? To keep the salary war going.

The ensuing legal action became what is known as the Oscar Robertson suit. In his otherwise extremely forthright autobiography, The Big O, Robertson recalled the ABA's genesis. He wrote, "[The ABA] stole the flashy young star, Rick Barry." No, they didn't steal him. Barry went on his own—the harder road—and the ABA was legitimized because of it. Barry's stature gave other NBA players and top college players the green light to go to the new league. Through his highly publicized lawsuit to invalidate the reserve clause, Barry pioneered the idea that every professional athlete could control his own contract. The ripple effect of his actions was profound.
Eventually, Oscar Robertson's famous case against the NBA was the final death knell when it came to the reserve clause, which opened up a lot of free agency freedom for NBA players. However, as Hollander notes in his piece, Robertson often ends up getting the credit when Barry's jump to the ABA before coming back to the NBA and leading the San Francisco Warriors to the NBA title in 1975 was really the start of all this. 
This was all because of a risk he took to be closer to his family (his father-in-law coached the Oakland ABA team he jumped to across the bay) and make an impressive amount of money while risking his already illustrious professional career. 
Rick Barry could flat-out ball
Most people will remember Rick Barry for his underhand free throw style that comes up whenever Andre Drummond, Shaquille O'Neal, or DeAndre Jordan head to the charity stripe, or the fact that there was a brief period of time in which he wore a wig on the basketball court while playing. We should really remember him for how ridiculous his scoring ability was on the court. In 10 NBA seasons, Rick Barry scored over 18,000 points. He did it by burying the opposing team with jumpers. 
One of the things I took away from spending all morning watching Rick Barry highlights was how little space he needed to get a shot off. There have been plenty of shooters in NBA history that only need about an inch of space to feel completely comfortable getting their shot up. Barry was certainly one of those guys.
In this look into Rick Barry the person from way back in the day on CBS Sports, you can hear a father talking about a three-year old that emulated Clifford Ray. This was done in 1975. Brent Barry was born on New Year's Eve in 1971. So basically, you can see a three-year old Brent Barry practicing his future dunk contest routine on a Fisher Price hoop.
While Barry has often offered his services to help teach struggling free throw shooters how to use the underhand style to become a deadeye shooter from the line, it's always been laughed off and dismissed by pro players. They don't want to look foolish while doing it and would rather try to make them the hard way. That wasn't the case for Chris Andersen when he had a broken bone in his wrist years ago. He went underhand and actually made one of them.
Sadly, it hurt his career 64.6 percent free throw percentage. 
The origin of the Point Forward
Rick Barry wasn't just a great scorer though. He was one of the original, if not the first point forwards in NBA history. He averaged 20.4 field goal attempts for his entire career but he also chipped in 5.1 assists per game to go along with the scoring surges. When he finished out his career with the Houston Rockets, Barry was basically their designated playmaker and table-setter. He wasn't aggressive enough to get to the free throw line at a high rate but he managed to set everybody up. He averaged 6.3 assists in his first year with Houston.
In a 2010 article on NBA.com by Steve Aschburner, the origin of the Rick Barry point forward experiment and how Don Nelson ran with the concept thanks to Del Harris and Paul Pressey gets revealed.
According to NBA legend, Milwaukee coach Don Nelson was the mad scientist who experimented with the "point forward" role and Paul Pressey was his monster. Pressey, a 6-foot-5 swingman from Tulsa with a pterodactyl wingspan, was a 1982 first-round pick who didn't fit naturally into a Bucks rotation that already had Marques Johnson, Sidney Moncrief, Brian Winters and Junior Bridgeman as skill players.

Enter Harris, between coaching jobs and by that point a consultant to his pal Nelson in Milwaukee. "I remember it clearly," Harris said. "We were at a meeting at the American Club in Lake Geneva (Wis.), and Nellie said, 'I've got Pressey and he's got to play forward, but he's not really a forward. He can pass. He can see over people. But I don't know what to do with him.' I said, 'Well, you could use him as a point forward like I did with Robert Reid.'

"Nellie just jumped all over that," Harris said. "He loved it and that's the way it was from then on. Nellie was not shy and he talked a lot about it, so he gets credit for it. But Tom Nissalke started it, I named it and Nellie popularized it. That's the honest truth."
Back in the 1986 NBA Dunk Contest, Paul Pressey was even called a "point forward" by the announcing team after putting down a dunk.
In today's game, it's commonplace to see forwards bringing the ball up, making plays, and even leading their team in assists. We've had dynamic players that transcend traditional NBA positions find a way to color outside the lines and still make a beautiful picture on the basketball court. However, there have been a couple of attempts at the point forward idea that weren't as pretty and smooth even if they were effective.
Anthony Mason was a point forward monster
Anthony Mason wasn't just a gigantic, hulking lefty with artistic designs shaved into his hair. Mason was a force with the basketball that found ways to bruise and baffle defenders when he was bringing the ball up the court. During the end of his run with the New York Knicks in the mid-90's, Mason assumed a lot of ball-handling duties and was quite the playmaker for the Knicks. He was a terrifying mixture of basketball skill and middle linebacker.
During his first season with the Charlotte Hornets (1995-96), Mason had an absurd stat line. He averaged 16.2 points, 11.4 rebounds, and 5.7 assists while shooting 52.5 percent from the field. Here is the list of guys that have had averaged at least 16 points, 11 rebounds, and 5.5 assists while making at least 52.0 percent of their shots in NBA history. That's not terrible company to be in. 
But we'll still always remember him as a Knick, right?
You just don't want to tussle with him or his friends.
Toni Kukoc was a pretty good point forward option as well
While there are plenty of guys like Scottie Pippen and Grant Hill to highlight here, Toni Kukoc was another big forward that could run a little point in an unorthodox way much like Anthony Mason. Mason was a lot bigger than Kukoc in terms of mass. He probably had 50-60 lbs. on Kukoc and maybe 40 of that was muscle. But Kukoc was a different type of point forward as well because of his 6'10" frame. Kukoc did his best work off the ball, putting himself in a position to make a quick scoring or passing decision once he got the ball from a teammate, but he was able to handle the rock and initiate the offense quite a bit for those Bulls teams.
Before he could do that though, he had to prove to Scottie Pippen and Michael Jordan why he belonged in the NBA and on their team.
After Kukoc came over to the NBA, it didn't take long for him to put his stamp on the Bulls' attack. Halfway through his rookie season in 1993-94, the Bulls had a showdown with the up-and-coming Indiana Pacers during the regular season. After a little heroics by Reggie Miller, including a bow to the Chicago crowd, Kukoc managed to be the last hero standing.
The overall skill set from Kukoc was incredible. You didn't often see a 6'10" guy do the things he did with the basketball. Now it's a little more accepted for tall forwards to do these things. You see Kevin Durant and Paul George currently excelling at such feats in a way we haven't really seen before. But roughly 20 years ago, Kukoc was setting us up for what was to come.
Toni Kukoc was also a great table tennis player
One little interesting fact about Toni Kukoc is many credit his quick hands and great hand-eye coordination with the fact that he was a table tennis player when he was young. He was pretty good at it too. Good enough to beat a future national table tennis champion when they were in competitions as children. From the Sports Illustrated vault, here's a great article on Kukoc from back in 1992: 
By most accounts it was a Sunday afternoon in 1983 when Igor Karkovic, a coach for the local club team, Jugoplastika, took his son out for a cruise along Split's Marjan peninsula. Karkovic might as well have been on the bridge of the Nina, the Pinta or the Santa Maria. He spotted a boy on the beach—running, diving, swimming—who cut a graceful figure. Karkovic asked who this boy was who had eluded the broad net the coach dragged through the city to snare young talent.

"Oh, that's Toni," his son told him. "We call him Feet."

Karkovic took the boat in, tracked the boy down and soon discovered why he had missed Feet. Kukoc, then 14 and 6'1", had shot up eight inches during the previous year. As it happened, he had quick hands, already apparent during a brief table tennis career in which he beat a boy who would go on to become national champion. He had quick feet, too, developed during a turn with a local soccer club—although his nickname stemmed from their size, not their quickness.
If you want your child to be an international basketball star, make sure they play soccer as a child for footwork and table tennis for hand-eye coordination. Them being an incredibly agile and athletic 6'10" anomaly would help as well.
Inside the NBA 2004 Thanksgiving spectacular
Speaking of setting the table (segue magic!), here's the time in 2004 when the TNT NBA crew had to work on Thanksgiving and tried to get Charles Barkley to try different flavored sodas.
Green appears to mistaken his Warriors teammate for a chair in an amusing "NBA 2K18" glitc...

The new look includes a snazzy alternate mid-court logo which recognizes history in the Philadelphia...

From Lonzo to Boban, here's a look at who to keep an eye on when the 2017-18 season begins
With 2K18 out everybody wants to know who has the 10 highest ratings in the game. Here's the...

Durant noted in an interview that all of the criticism in the immediate aftermath hit him...

Want the swagger of LaVar Ball? "NBA 2K18" lets you copy his absurd run from his WWE appea...