Ricky Rubio questions Kevin Love's leadership
A French interview has Spanish point guard saying that 'in voice, he is not the type of player who wants to be or that can be a leader.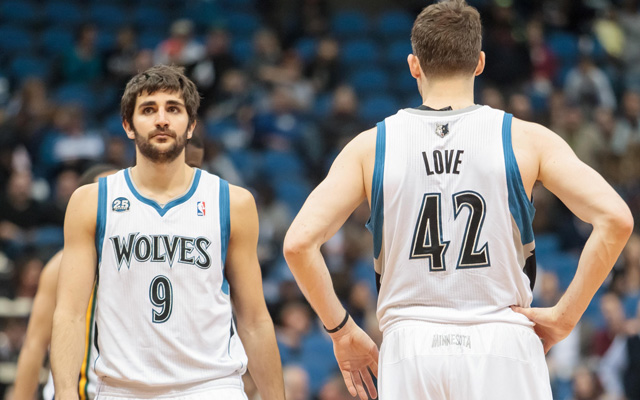 More on Kevin Love: Celtics could be in mix | Warriors, Bulls interested?
Minnesota Timberwolves guard Ricky Rubio spoke with French station Canal+, and in a leaked excerpt from a full interview, Rubio has some interesting comments about his teammate Kevin Love and his leadership. 
BasketAmericano has the full text. Here's the part that's causing a hubub, in context. Thanks to Sergio Gonzalez of CBSSports.com for translation: 
The player considers that "motivation has been one of the problems" that they have had and he opined "that starts with the (coaching) staff, the head coach and the assistants are the ones that should impart that (...) Even if he was only at 80 percent, 70 percent, Rick Adelman is a coach that knows a whole lot."

About his teammate Kevin Love, the Spanish point guard says that "he is a special player, the numbers that he puts up are incredible, but still the leader has to be somebody else (...) He leads in scoring, in other things, but in voice he is not the type of player that wants to be or that can be, no? There are different types of leaders. Still, it did not have to have been him, it should have been Kevin Martin, with a little more experience, or even I can take a step further and start to be the definitive leader."
Even after translation, you get the sense that there's something missing in what Rubio means and how this comes off in English. Either way "still the leader has to be somebody else" and "in voice he is not the type of player that wants to be or can be" a leader is pretty rough stuff from a teammate. 
The comments also come at a time where Love is involved in trade rumors with as many as seven teams after the Wolves changed their position from "absolutely not trading Kevin Love" to "open to the idea." 
And while Rubio says that he needs to be a better leader and is focusing on the team, it's still a criticism of a teammate that's considering forcing his way out. Considering how many assists Love provides Rubio, Rubio's only real statistical contribution offensively since he can't shoot at all, that may not be appreciated. We'll see if Rubio clarifies his comments later. 
Kevin Durant says he doesn't agree with what President Donald Trump agrees with

Evaluating where the future Hall of Famer might land up if he is freed from Chicago's rebuilding...

Adam Silver said his piece with the schedule out; we address that and what the slate looks...
The Hawks and Sharecare reportedly agreed to terms on a five-year deal

A look at the context of the schedule and who plays who when, and how far they travel during...

Durant took on rapper Lil Dicky and actually might have lost