Ricky Rubio will talk to Kevin Love, says he doesn't want to rebuild
Minnesota point guard Ricky Rubio said he'll call Kevin Love, and he wants him to stay.
• 2 min read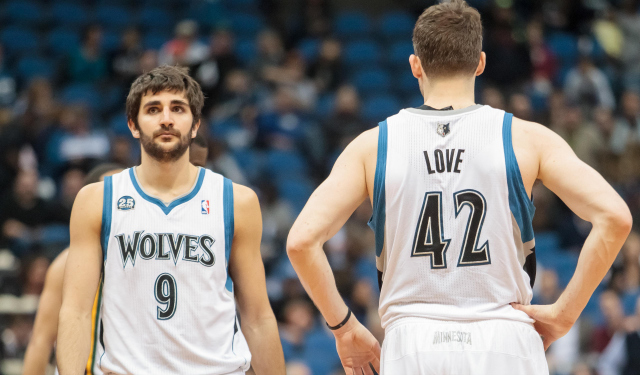 More Offseason Analysis: Coaching changes, news | Free Agency | Draft
Minnesota Timberwolves point guard Ricky Rubio made an appearance at Eurocamp in Treviso, Italy on Sunday, and he told NBA.com's Scott Howard-Cooper that he intends to talk to teammate Kevin Love after he returns to the United States on Monday.
"Of course I want him to stay."

Are you going to tell him?

"Yeah," Rubio said. "I don't want to convince him if he doesn't want to stay. But I want him to stay and I'm going to tell him what I think, which is we've been improving every year and he's a great player, he helps us a lot. I think we need to make the next step. … The media says it's pretty settled, but I don't know what he thinks. What I've been hearing is from the media, not from him, so I don't trust that. It can be an opinion from you guys. I just really want to talk to him as a teammate."
Rubio has a lot invested in what happens with Love. The Timberwolves finished 10th in the Western Conference this season, and trading their superstar would likely mean taking a significant step back. They'll also have to adjust to Flip Saunders taking over as head coach. Minnesota hasn't made the playoffs since 2004, and the reality is that a Love deal might mean next year is a rebuilding situation. That wouldn't be optimal for Rubio.
"No," Rubio told NBA.com when asked if Love's departure would prompt him to want to leave. "I like Minnesota. But I want to win too. Of course when a big guy like him leaves you're thinking about what's going to be happening with the team. Are we going to lose a lot? Before I came to Minnesota, the season before they won like 17 games. I was a little scared when I went there. I'm coming from Europe, where I was playing in Barcelona. I think we lost six games or seven games in two seasons and every loss was a disaster. I don't want to go through a process like every win is something special.

"If he leaves, it's going to be painful because he's a main guy. But it depends what we get back for him. We'll see what we can do. I don't think going through a rebuild year is going to help us because we've been improving every year and now we're so close to making the playoffs that it doesn't make sense to rebuild it again. It's not continuing what we were doing."
The West is brutal, and Minnesota had a frustrating season. The Wolves were talented enough to make the playoffs, but couldn't finish games and struggled mightily whenever Love went to the bench. The Wolves seemed like an up-and-coming team when Rubio arrived in 2011, but now they are mired in mediocrity. There's no easy solution here, assuming Love wants out, so Rubio might have to grin and bear it as the franchise figures out a new direction.
Jonah Keri talks with NFL and NBA broadcaster Ian Eagle

SportsLine simulated Wednesday's Nuggets-Clippers game 10,000 times

Galin Dragiev has his finger on the pulse of the Lakers and just locked in a play for Wedn...
No more McNuggets allowed in the Barnes household

Leonard has played in only nine games this season for San Antonio

Pierce is set to have his jersey retired on Feb. 11, but there's been a lot of controversy...