Rivers didn't want Clippers to deal DeAndre Jordan for Kevin Garnett
Clippers coach says center has been better than anyone else in camp, never wanted him traded.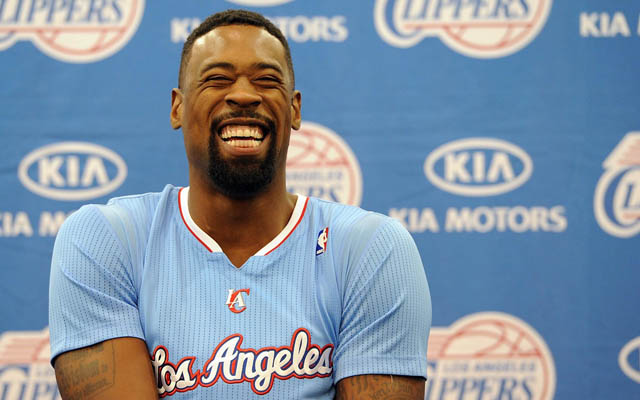 A lot of fans wonder why DeAndre Jordan is considered such a big deal. Why was he given a four-year, $43 million offer the Clippers matched two years ago? Why is he talked about in such a big terms for a big man who isn't a great rebounder, isn't an elite defender, and is a liability on offense at times due to bad free throw shooting? The reality is that league experts see his potential, see what he could be, what he's becoming, and what his size allows him to be. 
Still, the Clippers need more from him. They need him to be great. Doc Rivers knows that, and is building him up in the media, even going so far as to say that he didn't want the Clippers to trade him in a potential deal to acquire Kevin Garnett and Paul Pierce, a deal to get Rivers that was nixed by the league last summer. 
"I couldn't get involved in that whole thing," Rivers said. "That was the strangest thing in the world. I was seeing the trade talks and I was saying, 'Wait a minute! We don't want to give away that guy!' We wanted that other guy too. That was the home run to get both.

"[Jordan] is just too young and too gifted to let walk out your door, bottom line. He's a game changer defensively. He can single-handedly change a game with his defense. There's five guys, and that number maybe too high, that can do that single-handedly with their size and athleticism and he's one of them. When you have one of those guys, you want to keep them."

Rivers has praised the Clippers' 25-year-old center during the team's training camp in San Diego. He has called Jordan the team's defensive captain and a candidate for the NBA's Defensive Player of the Year this season.

Rivers also insisted that Jordan be included in a photo with himself, Chris Paul and Blake Griffin for the team's media guide, calling Jordan part of the Clippers' "Big Three."

"No one's been better than that guy," Rivers said of Jordan's performance during training camp. "He's been on another level."
via Doc Rivers claims he didn't want DeAndre Jordan traded for Kevin Garnett - ESPN Los Angeles.
The league nixed the talks of a deal involving Rivers and the two Celtics superstars based on a CBA stipulation that allows for picks and cash to be traded for the rights to negotiate with a coach, but not in conjunction with other players. Eventually, Rivers was allowed to sign with the Clippers in exchange for cash and picks, while Garn aett and Pierce were moved to Brooklyn on draft night. 
It's pretty interesting that Rivers would say he wanted to keep Jordan, even if it meant not getting Kevin Garnett. Not only are Rivers and Garnett close after all their success in Boston, but KG is an established, veteran player while much of Jordan's value is based on upside and development. Of course, there could be an alterior motive behind Rivers' comments. 
Yes, it's possible Rivers' praise is just reflecting how impressed he's been with Jordan, but Rivers wouldn't say anything if there wasn't actual advantage to revealing his improvement. He wants Jordan to feel trusted, supported, to feel loved, for lack of a better word. Some player need discipline and toughness to bring out the best, Rivers has likely learned that Jordan needs some help with his confidence. 
Last season, the Clippers gave up 104.1 points per 100 possessions with Jordan on the floor, 97.8 with him off. That's a huge negative swing defensively when Jordan is on the floor. It's rare that a big man that raw makes more of an impact offensively than defensively, but the Clippers were nearly eight points better per 100 possessions with Jordan on the floor, a big margin. That could simply be the product of Chris Paul, though. NBA stats site NBAwowy.com provides data that states with Jordan on the floor and Chris Paul off, the Clippers did surrender a lower amount of points per possession, but also that they were outscored by their opponent during that time. 
In short, Jordan was a difference maker on defense, but only with certain personnel, and that came at the cost of their offense. With Rivers' notably acclaimed schemes, there's a good chance he can bring the best out of Jordan. He needs to. The time for Jordan's potential is through; it's time for him to deliver. 
The Knicks unload Melo, sending their star to OKC for Enes Kanter, Doug McDermott and a pi...

LBJ, CP3 and other players around the league show support for Steph Curry and the Warriors...

George is on potential contender in OKC and Pacers can move on to a new era. Everybody's happy,...
Donald Trump didn't appreciate Curry's comments and responded on Twitter

Trail Blazers guards Damian Lillard and C.J. McCollum have been pushing for Anthony to join...

Anthony reportedly gave the Knicks an expanded list of teams he'd waive his no-trade clause...