Road to the Finals: Indiana Pacers
How the Pacers must make a run based on their defense and spite.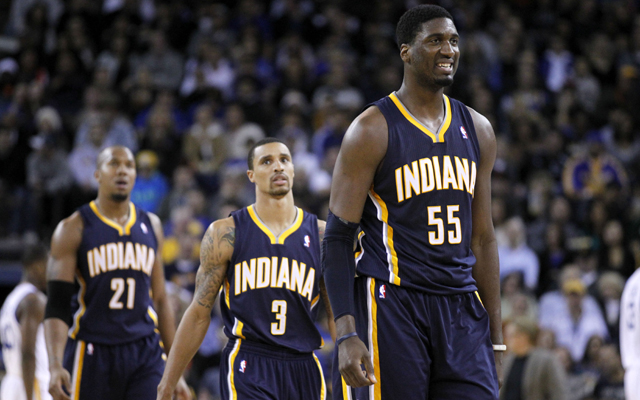 Most people don't even know the Pacers are here.
While every splash of the net from a Carmelo Anthony jumper causes shockwaves through media analysis, the East's other would-be-usurper to the Heat's probable throne tends to pass through almost invisibly. They have no superstar, they barely have stars, they play ugly, grind-it-out defense and their offense is like a tank. It gets stuck going around tight corners and you can predict where it's going second by second.
So how does a team like this hope to make a run?
By being very good at what they do. After a horrible start to the year where nothing was going right, the Pacers managed to get their bearings and went on a huge tear, eventually landing as the third-best team in the East only behind Miami and the Knicks -- after their late-season surge. Their offense finally managed to find its footing and that's when the Pacers started to look like a would-be contender.
They say defenses win championships, and if that were true the Paces would be talked about a lot more. Because their defense is legit. The Pacers sport the league's best defense, giving up 96.5 points per 100 possessions, a ridiculously low figure. Roy Hibbert protects the rim, Paul George corrals and attacks the perimeter, they close on shooters and they're always beating you up with contact.
So what's their path to the title?
The first-round matchup is far from a cakewalk, and that's kind of the thing with Indiana. They have the muscle to push Miami with tough play and grinding out possessions. Their offense is also bad enough to make you wonder if a first-round upset is possible. The Bulls have the same ugly kind of style, while the Hawks have players that can randomly have a good series and cause a little mayhem.
But then comes the big question. The second round, and a probable matchup with the Knicks. The debate over the East's second-best team raged all season. Is it the Knicks' glitz and glamor, the shooting and the stepbacks and the star power? Or is it Indiana's grit, hustle and execution?
You have to like the Pacers' chances, even without the homecourt advantage. They have perimeter defenders to throw at Carmelo Anthony, the guard play to protect the ball, a center to combat Tyson Chandler at both ends, and a few X-factor guys to get hot.
It's a battle worthy of the 90s rivalry that sparked Reggie vs. Spike, and that's their likely season peak in the semifinals. But if they get confidence coming out of the second round to face Miami they have one big thing going for them.
Indiana hates Miami.
Maybe more than Boston, amazingly, with the new players on the Celtics and their injury situation. More than New York with their strive to compete for headlines and magazine covers. Indiana takes every meeting with the Heat personally and truly believe they can beat them. David West is a monster vs. Miami, and they hammer the Heat, constantly and consistently.
The Pacers have the defensive execution to match anyone, but it's their emotional edge vs. the Heat they need if they want to pull what most consider to be a miraculous upset. They want to make it ugly, they want to make it violent, and they want to make it unwatchable.
But if it gets the job done, who cares?
San Antonio's track record speaks for itself, but they've made a few puzzling moves this o...

The Kings top pick thinks your burgers are trash, California

Popovich added that Trump is 'unfit intellectually, emotionally, and psychologically' to be...
Larry Hartstein turned in a massive profit to close last season and locked in a pick for R...

Too many stars and not enough spots on the upcoming season's All-NBA teams

It appears Philadelphia will continue to be extremely cautious with its potential franchise...