Road to the Finals: Miami Heat
In an ongoing series, CBSSports.com's Eye On Basketball will take a look at playoff teams as they head into the NBA playoffs. Next up: the defending champion Miami Heat.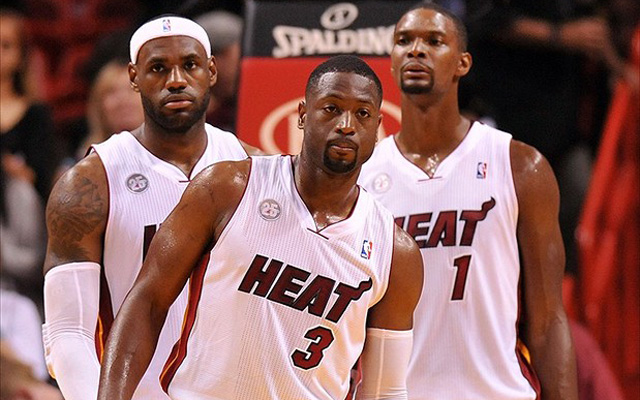 When we talk about the Eastern playoff picture, we ask questions like this:
The Knicks look dangerous. Are they for real? Can they contend?

The Pacers are so tough and rugged. Are they really this good? Legit contender?
The Nets are playing really well, and Deron Williams looks as good as he has in years. Can they make a run?

The Celtics ... never mind.
But, really, the right question is simply, "Yeah, but can they beat the Heat?"

It's not that the Heat have been simply better than everyone else. It's that they've been overwhelmingly better. Against the East this season, the Heat are 38-11 (against the West, 25-5). That includes recent games of sitting combinations of LeBron James, Chris Bosh and Dwyane Wade. The Heat's margin of victory isn't mind-blowingly good (+7.8), but where they excel is closing in crunch time. In two-possession games this season, they're an unbelievable 18-5. In overtime games, 5-1.
The 27-game win streak said a lot about this Heat team and really called back on a lot of what made them great in the 2012 playoffs. When the moments mattered, when they needed a basket, when they needed a stop... they got it. The Heat have an incredible trust among each other, and that comes directly from LeBron. He's a rare player in that he can completely dominate crunch time without even shooting. His ability to drive and find shooters sprayed out on the perimeter make the Heat a nightmare to guard during the last five minutes of a close game.
And one of the benefits, among many, of winning the championship last season is that it has left Erik Spoelstra some freedom to experiment, to break traditional positionality rules and just put five on the floor. It's not necessarily a groundbreaking philosophy -- Don Nelson did that stuff for years -- but it is certainly a bit bolder to do when you've got the personnel that the Heat have.
The addition of Ray Allen has added a new dimension to Miami's small-ball attack, giving them an even bigger wealth of shooters. Here's what has worked -- and by "worked," I mean completely killed everyone -- for the Heat this season: Via NBA.com's stats, in 108 minutes, the lineup of Mario Chalmers, Allen, Wade, LeBron and Bosh has a net rating of +35.9. That's an offensive rating of 129.5 and a defensive rating of 95.6. That's like good or something.
Or take what seems to be Spoelstra's preferred crunch-time group of Allen, Shane Battier, Wade, LeBron and Bosh. That group is a net +20.0 (offensive 114.9, defensive 94.9) in 134 minutes. There's also Chalmers, Wade, Battier, LeBron and Bosh, a group that in 300 minutes is a +19.6 (117.2, 97.5). Two things you'll notice about those three lineups: 1.) It's hard to know who is playing what position in either, and 2.) They both feature LeBron, Wade and Bosh, three players who can blend positions with ease.
Apply those effective lineups against Miami's primary Eastern competition. The Knicks present an intriguing potential roadblock because they love to play small with Carmelo Anthony at power forward and spread the floor with shooters while Tyson Chandler anchors the interior. We didn't learn as much as you might think from New York's four games against the Heat because of injuries to both sides. But in 23 minutes against the Knicks, the lineup of Chalmers, Wade, LeBron, Battier and Bosh was only a net positive of 5.0 and struggled mightily to score (just an offensive rating of 81.7). In eight minutes, the killer group of Allen, Wade, LeBron, Battier and Bosh was a whooping -61.1 against the Knicks, allowing better than 130 points per 100 possessions. So that's something to watch.
The Pacers have two wins over the Heat and used a formula of out-muscling and out-sizing Miami. The interior of Roy Hibbert and David West crushed the Heat on the boards in the two wins (a +28 on the glass combined). Those games exposed a perceived weakness to Spoesltra's positionless master plan: The Heat are vulnerable on the boards. Miami ranks 21st in the league in rebounding differential at -1.6 a game and allows 11.3 offensive rebounds a game. The question, though: Can the Pacers deploy that strategy to get four wins in a series?
Point is this: Are the Heat beatable? Of course, they are. No one's invincible. As magnificent as the Heat were last postseason, let's not forget they were mightily tested by the Pacers and pushed completely to the brink by the Celtics. Sometimes, it's an injury (as it was to Bosh in the second round). Sometimes, it's a bad run of play. Or, sometimes, another team just elevates itself. The Heat are the heavy favorites and very rightfully so, but they don't just get to punch a ticket to the Finals based on reputation or their regular-season achievements. The playoffs are a clean slate, a new season, and you have to prove yourself all over again.
But the Heat have also earned their label as the favorite. They are the top dog that someone has to knock off. The East doesn't have near the depth and talent as the West, especially with the injuries the Celtics and Bulls have had. In terms of stiff competition and roadblocks, the Heat's path is much cleaner than, say, the Thunder or Spurs.
The Heat proved themselves greatly last postseason with the comeback in Boston and the four straight over the Thunder. LeBron found a level that not only took his teammates to a higher place but legitimately terrified opposing fanbases. Wade's health and age were questions, but during the streak, he seemed to put all that to bed. Allen, Chalmers, Battier, Mike Miller -- they all have a knack for hitting 3s, and that knack is directly tied to them being open a lot because of the attention that Wade and LeBron received. Bosh is basically a middleman who provides some semblance of an interior presence while also a midrange option.
The Heat play with a formula and a purpose. But more than that, they have an uncanny confidence and swagger. No matter the margin or the situation, they believe they will win. They trust one another, they play together and they accept roles and responsibilities. During the 27-game streak, they had close calls. But even in that Bulls game, there was a confidence that, despite the situation, they were going to pull it out. We saw that against the Pacers, Celtics and Thunder last playoffs, and they've only built on it this season. It's a special thing for a team to have. Because the margins that separate close games -- those two-possession nailbiters -- are razor thin and often determined by luck and happenstance. Or, like Harvey Dent, you make your own luck, which is what the Heat seem to do through determination, trust, belief and confidence.
This postseason is going to swing the historical context of this Heat team. That 27-game streak put an incredible weight of expectation on their shoulders. Anything short of a title, and that streak forever has the footnote of "did not win the title" with it. Finish off a second straight championship, and that streak is bullet point No. 1 on their resume to be included with the greatest teams of all time.
So, per the usual, the pressure will be high and the spotlight shining bright on the Heat. As if they'd have it any other way.
Teletovic missed the final three months of 2014-15 season with Nets recovering from same i...

Keep it right here for all of the news, notes, scores and highlights from around the leagu...

The NBA's City edition Nike jerseys are bold and very different
The Wolves may be smoke and mirrors, but the Pacers have the look of a team that can hang in...

LeBron said it might be difficult if the Lakers rookie ducks out of the way before he gets...

Galin Dragiev has his finger on the pulse of the Mavericks and just locked in a play for Thursday's...