Robert Sarver: 'We haven't heard from [Eric Bledsoe] in 4 months'
Phoenix owner Robert Sarver is blaming essentially blaming Eric Bledsoe's camp for his situation not being resolved.
• 2 min read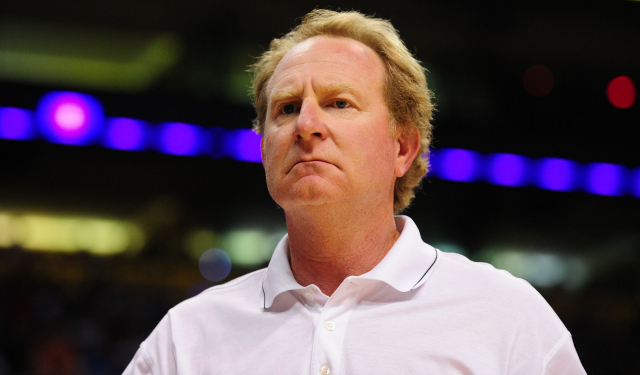 Offseason: Free Agency | Latest from Ken Berger | Rumors
Phoenix Suns owner Robert Sarver has already publicly said that he thinks his team's four-year, $48 million offer to restricted free agent Eric Bledsoe is "fair." Now, he's claiming that he's open to negotiating with him and agent Rich Paul, but they don't want to talk, via the Arizona Republic's Paul Coro:
"We value Eric as a player," Sarver said. "I hope at some point we'll be able to sit down and meet with those guys and make a deal."

A Comcast SportsNet Northwest report quoted a source who said the Suns' relationship with Bledsoe "is on the express lane to being ruined."

ESPN.com's Chris Broussard reported that the relationship is going in the "wrong direction."

"Maybe that's just posturing and negotiating," Sarver said of the reports. "We haven't heard from the guy in four months, so I couldn't tell you. I do know that when he played here, he felt good about the organization, his coaching staff and his teammates at the end of the season. We had the same feelings toward him."
As noted by Coro, the Philadelphia 76ers are the only team that could conceivably deliver a maximum offer sheet to Bledsoe. That's what he was originally seeking in free agency, but it simply wasn't the right time to be on the market as a restricted free agent point guard, especially with the Suns saying they'd match anything. 
Just like with the Greg Monroe situation in Detroit, the only leverage Bledsoe has is accepting a one-year qualifying offer. That would mean making $3.7 million next season and then hitting unrestricted free agency. Sarver said he'd prefer to get a deal done, but he'd be OK with that:
"Hopefully, at the end of the day, Eric comes here and does a contract," Sarver said. "If that doesn't happen, then he'll be here for a year and we'll have a year to figure it out on both sides."
Realistically, the way Bledsoe played in his first year as a full-time starter should have earned him a more lucrative offer. It didn't help that he missed a few months because of knee surgery, or that Kyle Lowry signed in Toronto for the same money and years that Phoenix has on the table. Bledsoe has a difficult decision to make here, as the Suns likely won't move far from that number.  
We've got all the scores, highlights and news from all of Sunday's games

The Rockets beat the Warriors 116-108 on Saturday night

The Cavaliers gave up 148 points in their loss Saturday afternoon to the Thunder
Blatt made the comment before coaching in the All-Star Game in Turkey

Is this rock bottom for the Cavaliers because it sure feels like it is

Wade, as he's done so many times in his career, threw it up to LeBron for the thunderous f...