Rockets-Blazers Game 3 Preview: Digging deeper
Previewing Game 2 of the Rockets-Blazers first-round series, where Houston has to steal at least one game in Portland.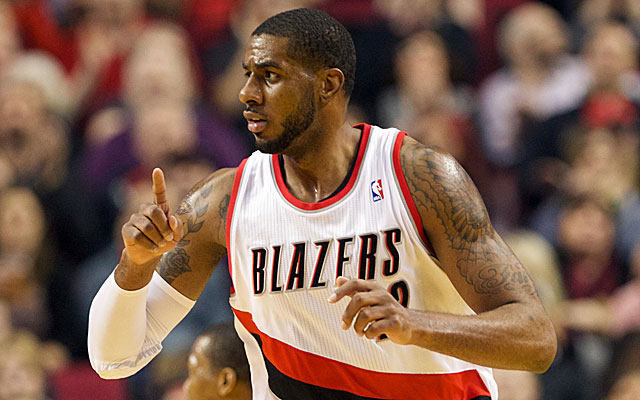 More Playoffs: Schedule | Threat Matrix | Previews: East | West | Picks
Previewing Game 2 of the Rockets-Blazers first-round series.
1. Where We Are: The Trail Blazers lead 2-0. Or from another perspective, the Rockets trail 0-2. And for whatever reason, it feels lot more about the Rockets being in an 0-2 hole than it does the Blazers being on a 2-0 mountain top. 
Both games have been absurdly close, with Game 1 going to overtime after the Rockets let a fourth quarter lead slip, and Game 2 featuring a Rockets comeback that fell short. But the theme so far is that Houston can't slow down a powerful Portland offense. While Dwight Howard was dominant at times in Game 2, the Rockets had no answer for the onslaught from LaMarcus Aldridge and company. 
Now the series transitions to Portland where the Blazers are 32-10 this season, and have always possessed one of the bst home courts in the league. Can the Blazers get at least a game and bring it back to Houston for Game 5?
2. The Big Number: 89. That's LaMarcus Aldridge's total points through the first two games. He had 46 in Game 1, then 43 in Game 2. The Rockets have been scrambling to slow him down, trying Dwight Howard, Terrence Jones and even Omer Asik on him. 
3. Key Adjustment: Two adjustments the Rockets have to focus on: 1) Going to Asik on Aldridge early could be effective because his length makes it difficult to shoot those turnaround jumpers over. Plus, that size inside makes the Rockets stout on the offensive glass. And 2) possibly considering double-teams on every catch. That can be a problem because Aldridge is a good passer and the Blazers have shooters, but the mindset tonight has to be making someone else beat them. 
4. The Big Story: Where has James Harden been? Through the first two games, he's 14 of 47 from the floor with nine turnovers. There's been a lot of focus and pressure on Dwight Howard, but he carried the Rockets in Game 2. Harden wanted this pressure and wanted this spotlight. If he keeps dropping duds, he's going to start grabbing the attention of everyone and the questions and hot take sports columns will start rolling in.
5. The Facts: 10:30 p.m. ET. Patrick Beverley is playing through a right knee sprain. 
Arron Afflalo was involved in an altercation with Timberwolves big man Nemanja Bjelica on...

Fergie and Canadian rock band The Barenaked Ladies will sing their respective national ant...

Based on Gentry's tongue-in-cheek price, Boston is highly unlikely to acquire the big man
Larry Hartstein is 22-11 in ATS picks for or against the Timberwolves and has a play for T...

First they were fragile, now they're dealing with 'rotation' challenges

You could say the Brazilian big man marches to the beat of his own drum