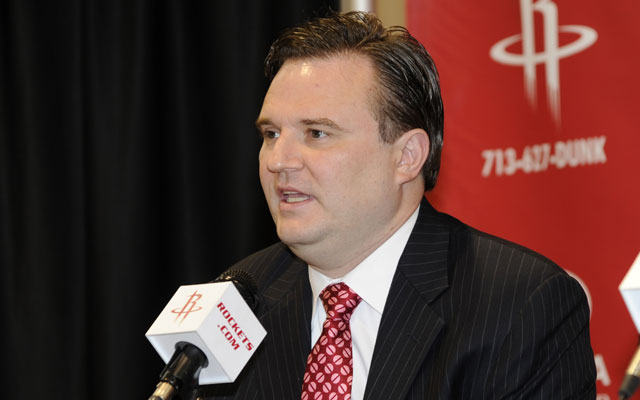 While the San Antonio Spurs have been the best franchise in the NBA for 15 years and the kings of Texas basketball, the Houston Rockets and Dallas Mavericks have been trying to use bigger markets and smarter, different ways of analyzing basketball to catch up and establish themselves as destination organizations for big free agents. While the rivalry on the court has been solid for the past few years, the rivalry between Rockets' general manager Daryl Morey and Mavs' owner Mark Cuban has been growing and getting feisty.
After Cuban has been gloating over his signing of former Rockets' forward Chandler Parsons, Morey fired back with comments about why Cuban is salty toward the Rockets over a pursuit of Dirk Nowitzki and says the Mavericks can't compare to the Rockets' organization when the  money is equal. From Adrian Wojnarowski of Yahoo Sports:
"I think [Cuban's] pissed that we went after Dirk [Nowitzki] in free agency, however unsuccessful it was," Morey told Yahoo Sports. Yes, Morey respects the tactical purposes behind Cuban's crusade, but rejects his reasoning as flawed – even downright untrue.

"We've been pretty good, and I think he's doing a smart thing to take on a rival," Morey told Yahoo Sports late Sunday. "He should want to beat up on San Antonio, too, but it's hard to paint the Spurs that way. So he's directed his bully pulpit onto us. Our owner stays above the fray, so I'm outgunned honestly.

"But let's be clear: If the money's equal between the Rockets and Mavericks, I think players are picking Houston. Every time. For Dwight [Howard], I just don't think it was a hard choice between us and Dallas. If you want to win, you're going to want to join our organization. We have a first-team All-NBA player in his prime [James Harden]. They have an enormously talented superstar [Dirk Nowitzki] but he obviously isn't 24 years old.

"The choice was pretty obvious between the two teams. Dwight is the smart guy in this."
Morey goes on to talk about how the Mavericks have tripled their analytics efforts, even though the Rockets have been one of the leaders in analytics in the NBA. The Rockets' GM also fired back about questions Cuban had about the Rockets' concept of team chemistry by citing Cuban broke up the 2011 championship roster in the hopes of cashing in when it came to free agency and maintaining roster flexibility. Cuban has cited in the past that the new collective bargaining agreement was the reason for not keeping that team together.
Of course, Cuban does have that ring and Morey doesn't, which Morey recognizes as a trump card factor in Wojnarowski's article.
These two organizations have done a good job of maintaining cap space flexibility over the last few years as they chase big time free agents. The Rockets beat out the Mavericks in the Dwight Howard sweepstakes in 2013. The Rockets struck out on the Chris Bosh sweepstakes this summer, which ultimately led to them not matching the three-year, $43 million offer sheet from the Mavericks to Parsons. Morey has taken a lot of criticism for not matching the deal when the plan seemed to be matching the offer sheet no matter else they did. 
At the Mavericks media day, Cuban had a critique of Morey and his comments. He called him a smart guy but compared him to Donald Trump in his understanding of the media. Cuban also questioned Morey's assertion that players looking to win a title would look to go to Houston instead of Dallas.
Mark Cuban on Daryl Morey: "He's got some Donald Trump in him where he really doesn't understand media that well, but he's a smart guy."

— Tim MacMahon (@espn_macmahon) September 29, 2014
Cuban on Daryl Morey's comments that if teams want to win a championship they need to go to Houston: "I'm not sure how he would know that."

— Bryan Gutierrez (@BallinWithBryan) September 29, 2014
What are the odds this "war of words" is over?