Rockets' Greg Smith could be back with the team on Sunday
Houston Rockets big man Greg Smith has been out with a sprained knee but could return to the team on Sunday.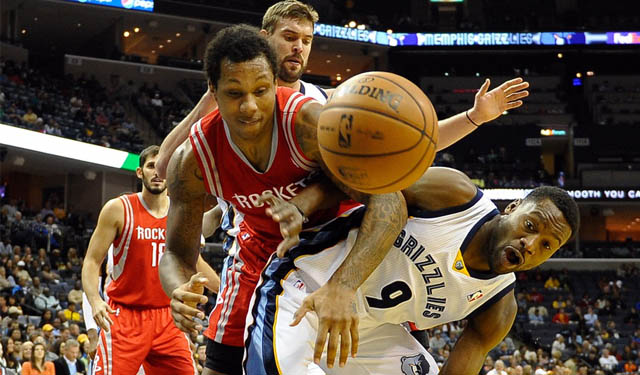 The Houston Rockets have been reportedly working on trading away Omer Asik to free themselves of a starting level center that wants to play as much as his teammate Dwight Howard. By moving Asik, they'll undoubtedly acquire a good asset in return, but they could leave themselves with a bit of a void at the backup center position if they do.
Backup big man Greg Smtih had a bit of a breakout season for the Rockets in limited time last season. He's only played in four games this season because of a sprained knee that's kept him out for a couple weeks but he believes he'll be back playing with the Rockets on Sunday when they play in Sacramento. 
Center Greg Smith, who has missed 11 games with a sprained knee, hopes to return Sunday at Sac.

— Mark Berman (@MarkBermanFox26) December 11, 2013
Smith started 10 of the 70 games he played in last season and provided a great presence for scoring inside and hitting the boards. He averaged 6.0 points and 4.6 rebounds in 15.9 minutes of play last season. He also made 62.0 percent of his field goals. He showed a great ability to catch just about anything with his massive hands and finish around the rim.
The Rockets currently have plenty of depth and they like to play small anyway. But knowing they have a big man that can be trusted inside and could even play next to Howard at times could be enough insurance for the Rockets to feel good about whatever the market is for Asik right now. If they're grabbing a stretch-4 or another wing in exchange for the backup center, they should feel confident they still have plenty of size. 
Then-Lakers owner Jerry Buss eventually shot down the idea

Bryant will have both No. 8 and No. 24 raised to the Staples Center rafters on Monday

The Lakers will be retiring Kobe Bryant's No. 8 and No. 24 jerseys at halftime
The Nuggets will look for their second-straight win with Nikola Jokic back in the lineup

This composition is absolutely amazing

Stephen Curry, who grew up in North Carolina, wants to be part of the next Panthers ownership...