Rockets guard Jeremy Lin back to 100 percent after knee surgery
Houston is expecting a healthy and leaner Jeremy Lin to provide a spark to its starting backcourt.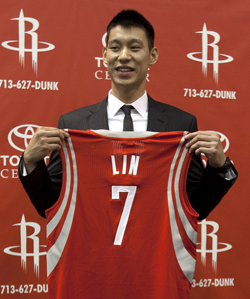 Jeremy Lin is good to go for the Rockets after knee surgery.
(Getty Images)
Fresh start. Clean bill of health.
After a summer filled with rehabilitation, free agency drama and a world tour, Houston Rockets guard Jeremy Lin said Tuesday that his left knee is 100 percent healthy following March knee surgery.
I'm good to go," Lin said, according to the Houston Chronicle. The paper also reported that Lin lost 10 pounds during the summer.
The Rockets open their preseason schedule against the Oklahoma City Thunder, the defending Western Conference champions, on Oct. 10 in Hidalgo, Texas. Their regular-season opener is Oct. 31 in Detroit against the Pistons. 
A Taiwanese-American who played his college ball at Harvard, Lin is back in Houston as the team's starting point guard. Lin was waived by the Rockets in December 2011. The Knicks signed him and Lin skyrocketed to global superstardom with New York.
Lin, 24, averaged 14.6 points, 6.2 assists, 3.1 rebounds and 1.6 steals in 26.9 minutes per game for the Knicks last season. He made 35 appearances before undergoing the arthroscopic surgery that ended his season. The Knicks were expected to re-sign Lin but opted not to match Houston's three-year, $25 million back-loaded offer sheet. 
This summer, Lin traveled to Taiwain, much to the delight of his fans there. 
This stat line is in no way an indication that Ball has turned any kind of corner

All of Simmons' 3-point attempts have come from well beyond half court

The No. 1 overall pick has not played since Oct. 23 due to a shoulder injury
In this week's Power Rankings, the Celtics finally claim the top spot while the Cavs begin...

We've got you covered for all the scores and highlights from Sunday's NBA games

The Cavs superstar compared Kaepernick to Martin Luther King Jr. and Muhammad Ali