Rockets James Harden is day-to-day with a bruised left foot
Houston Rockets star James Harden had a great offensive night against the Los Angeles Lakers Thursday night but he's day-to-day with a bruised left foot.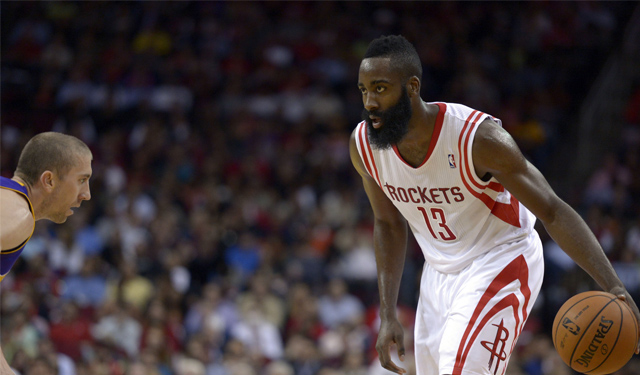 You saw two different types of play from Houston Rockets guard James Harden against the Los Angeles Lakers Thursday night. In the loss, Harden played 44 minutes and scored 35 points. He managed to get himself to the free-throw line -- 16 points -- and was active after the first quarter in which he put a lot of pressure on the Lakers defense before falling short. 
However, on defense Harden struggled mightily. It was probably even worse than the usual defensive effort he gives because he just didn't seem to be able to make a decision to stick with shooters on the perimeter. Could that have been because of a foot injury that now has him day-to-day? It's hard to know but if that's the cause, his bruised left foot could put the Rockets' defense in a precarious situation. 
James Harden day-to-day with bruised left foot.

— Jonathan Feigen (@Jonathan_Feigen) November 8, 2013
The Rockets don't play again until Saturday when the Los Angeles Clippers come to town, and then again on Monday, when the Toronto Raptors visit. Depending on what the injury is, Harden should have enough time to rest his foot and get whatever needed treatment in order to heal up while still playing. 
Among the questionable decisions by Jackson was signing Noah to a long-term, lucrative dea...

This Akron store doesn't want their hometown hero to leave again

Milwaukee's star did not get cleared to play for his national team due to a painful knee i...
Ball, the second overall pick in the NBA Draft, is receiving even more hype

Rap mogul supports the vision the outspoken father has for his brand and sons

Deciding who to watch on League Pass can be difficult, but these rankings promise to help