Rockets' James Harden says he had little time to decide on Thunder's final offer
James Harden told Yahoo Sports he was only given an hour to decide on his contract extension before the trade to Houston happened.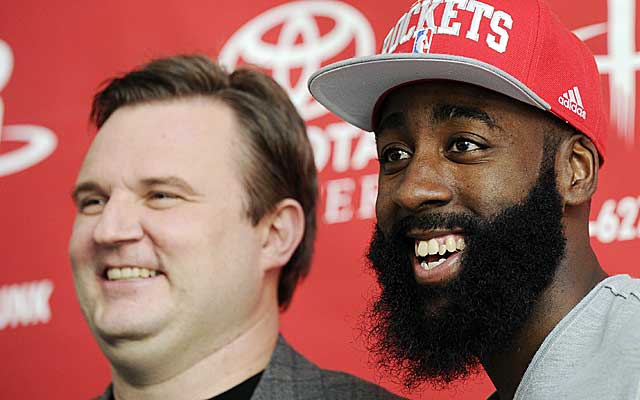 James Harden only got an hour on his final contract offer?
(Getty Images)
We've got about three weeks until the Houston Rockets take their new star shooting guard back to Oklahoma City for a showdown with the Thunder on Nov. 28. Much like the Ray Allen-Boston Celtics media hype last month, we may get a lot more stories like this during the upcoming three weeks. 
Adrian Wojnarowski of Yahoo Sports had this story about James Harden, who claims the Thunder only gave him an hour to consider their final offer before they traded him to the Rockets. 
Even with the rapid embrace of life as the franchise player for the Houston Rockets, something still troubles All-Star guard James Harden about the way his departure unfolded with the Oklahoma City Thunder: Why didn't officials give him longer than an hour to consider a final four-year, $54 million offer before trading him?

"After everything we established – everything we had done – you give me an hour?" Harden told Yahoo! Sports on Monday afternoon. "This was one of the biggest decisions of my life. I wanted to go home and pray about it. It hurt me. It hurt."

Asked if additional time might have caused him to accept a deal several million dollars short of the $60 million maximum contract Harden had long sought, he responded: "Who knows? Another day, who knows what another day would've done?"
The ins and outs of NBA trade negotiations are fascinating. So much can happen in the blink of an eye. We have trade negotiations like Dwight Howard and Carmelo Anthony, which takes months of hype, conjecture, and finger pointing before things get settled. Or you have situations like James Harden and Deron Williams that seemingly come out of nowhere and shock everybody.
There was a weird balance of mutual respect the Thunder had to balance on both sides of this deal. Considering Houston was a trade partner and essentially a business partner for a brief moment, they needed to be respectful and allow plenty of time for the Rockets and James Harden to hammer out a contract extension before the deadline passes. On the flip side of that, they have to continue the mutual respect with Harden as they attempt to keep him in their long-term plans.
There is a key balancing act, and while it seems like the Thunder were considerate with the trade partner, apparently the player feels like more could have been done to give him the proper time to make a huge career decision. If the Thunder didn't have much of an update on their offer and it remained four years and $54 million, it makes sense that OKC wouldn't give Harden much time to make a decision.
After all, he had far more than an hour to decide if he wanted to re-sign with OKC before the deadline. But it makes you wonder if the Thunder had told Houston they needed one more day to give Harden time to make a decision, would the Rockets have decided a deal couldn't be done?
I would wager the answer is no. If Houston pressured the Thunder to get this done, knowing it might get them the franchise player they've been dying to acquire over the past couple of years then it was a brilliant strategy. 
Regardless, it's fun to see Harden on his own, figuring out how to lead a team at the NBA level. He gets to have his immense talent showcased every night. I just hope the line of questioning over the next three weeks doesn't focus about what possibly went wrong with Harden and OKC and we get to focus on the excellent play on the court.
We've got all the scores, highlights and news from all of Saturday's games

The two teams have reportedly not had any substantial discussions to this point

Oladipo may be getting most of the shine, but this second-year big man has been phenomenal...
SportsLine's Mike McClure, a DFS pro with more than $1M in winnings, gives optimal lineup...

The Lakers were just 2-14 from the stripe

The Cavs are reportedly looking to acquire numerous players -- even Teen Wolf?