Rockets owner expects team to sign 'terrific free agent'
After signing Dwight Howard a year ago, could the Rockets land a star for the third straight summer?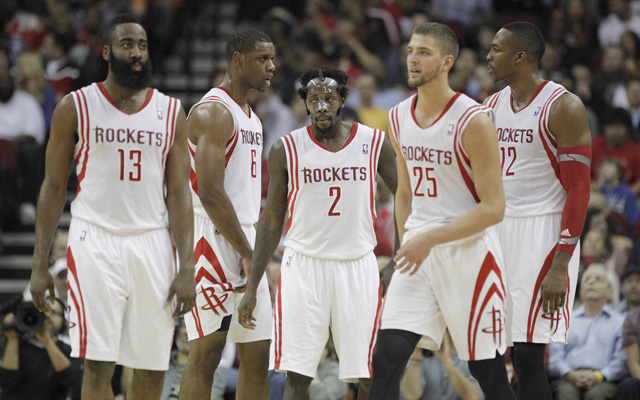 More NBA: Season Awards | Grades: East | Grades: West | Seasons in Review
Rockets owner Leslie Alexander told Fox 26 in Houston that he expects the team to add a "terrific free agent" this summer.
"We're going to have cap room to bring in a terrific free agent and I think next year we'll be a lot better than we were this year," Alexander said in an interview with FOX 26 Sports.

"I think the nucleus is great. I think we have two of the brightest stars in the league. We have players who are going to be much better next year, young guys. We have a very good nucleus."
via Leslie Alexander: Rockets plan 'to bring in a terrific free agen - Houston weather, traffic, news | FOX 26 | MyFoxHouston.
After acquiring Dwight Howard in free agency last summer, rumors were rampant about the Rockets being on the lookout for a third star to pair with James Harden and Dwight Howard. Rumors about the Rockets' interest in now-Knicks forward Carmelo Anthony go back as far as 2010, but recent reports surfaced in March about Houston potentially being a suitor for Anthony's services should he opt out in July. 
Anthony is the easy name here, but in truth, the Rockets need two things: a floor manager point guard to calm the offense down and create good looks in the fourth quarter where the Rockets fell apart this season, and a defensive stopper to help contain on the perimeter where the Rockets were shredded this year, and in the playoffs. Rajon Rondo is the obvious name that pops up considering those two categories, but he's not a free agent, though the Rockets have been said to be pursuing him in trade for months. 
And outside of Anthony, the names on the free agency list are relatively dull. Luol Deng is an attractive option, though, Kyle Lowry is another good thought, but he's unlikely to come back and play for Kevin McHale who he clashed with. 
Also interesting? Even if the Rockets declined all options, which would mean letting Chandler Parsons go as a restricted free agent, they still have $59 million tied up in cap space. Alexander's comments seem to indicate that the Rockets feel they can move some of the stuff clogging up space, which would almost certainly mean Omer Asik, Jeremy Lin (and their $15 million poison pill contracts) or both. It looks to be another interesting summer in Clutch City. 
Kris Dunn somehow took a chunk of the Bulls court out with his teeth, but didn't lose any in...

The fallout from the Rockets-Clippers tussle continues; no Clippers were disciplined

DH12 is picked for free throws after a teammate gets ejected. He makes both, and lets Scott...
Bell was injured defending a Robin Lopez dunk and had to be taken off the floor in a wheel...

Trevor Ariza and Gerald Green are reportedly both suspended two games

We've got all the scores, highlights and news from Wednesday night