Rockets pitched Melo with Jeremy Lin's number, Lin's not thrilled
Houston shows billboards showing Carmelo Anthony in No. 7 uniform, which belongs to Jeremy Lin.
>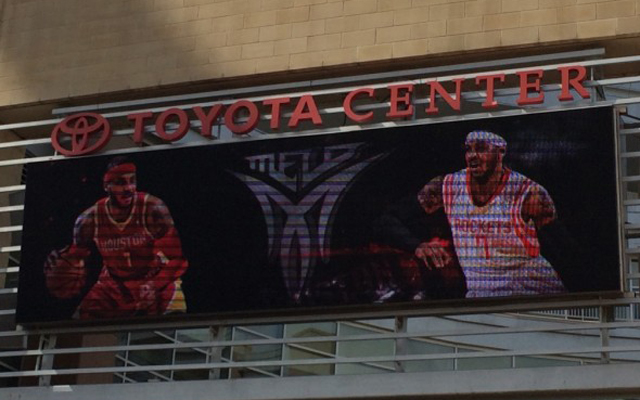 The Houston Rockets hosted Carmelo Anthony Wednesday morning as part of Melo's tour de free agency. As part of their presentation, they showed billboards with Melo in a Rockets jersey. Specifically, No.  7. 
Funny thing about that, though: Jeremy Lin is No. 7. 
Awkward. 
Luke 6:29 - If someone slaps you on one cheek, turn to them the other also. If someone takes your coat, do not withhold your shirt from them

— Jeremy Lin (@JLin7) July 2, 2014
@EmodMarco im entitled to standup for myself/say i felt disrespected as i did thru tweet but point is love unconditionally/as jesus loved me

— Jeremy Lin (@JLin7) July 2, 2014
SO. AWKWARD.
Thing is, Lin would most likely have to be moved to make room for Melo. But to do this publicly, instead of just fabricating a number, is kind of an insult. Lin has a right to be upset. And if the Rockets don't land Anthony as a free agent, which is not the expectation, the Rockets may likely have to move Lin anyway. Because bringing him back after that is maybe even worse than the disrespect. 
This is like if your boss was hosting a potential new employee and showed them where they would work ... which is your office. Not cool, Rockets!
Kevin Durant says he doesn't agree with what President Donald Trump agrees with

Evaluating where the future Hall of Famer might land up if he is freed from Chicago's rebuilding...

Adam Silver said his piece with the schedule out; we address that and what the slate looks...
The Hawks and Sharecare reportedly agreed to terms on a five-year deal

A look at the context of the schedule and who plays who when, and how far they travel during...

Durant took on rapper Lil Dicky and actually might have lost