Rockets trade Chase Budinger to Minnesota for 18th pick
Rockets trade Chase Budinger to Timberwovles for 18th pick in the draft.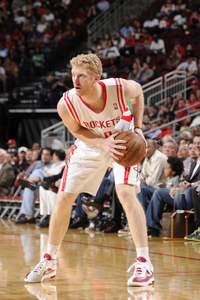 Chase Budinger was traded to the Timberwolves Tuesday.
(Getty Images)
The Rockets keep stockpiling. 
Ken Berger of CBSSports.com confrims a SI.com and Yahoo Sports report that the Rockets have traded forward Chase Budinger to the Minnesota Timberwolves for the 18th pick in Thursday's draft. The trade gives the Rockets three picks in the top 20. 
Monday, reports surfaced that the Rockets were in full pursuit of Dwight Howard, hoping to move up with either their own pick or the pick they obtained from New York in 2010, along with potentially Kyle Lowry, into the top 10. This move would indicate that they're trying to pull in more assets for a deal. 
Budinger averaged 15.5 points and 6 rebounds per 36 minutes last season for the Rockets, shooting 40 percent from 3-point range. He's a versatile forward, the kind that the Wolves have been looking for. He has a team option which has to be activated by July 1 to avoid him entering restricted free agency, which the Wolves will almost surely opt for. 
The Rockets now own the No. 14, No. 16 and No. 18 pick in the draft. If they want to get Howard, however, they're going to have to get into the top 10 with at least one of the picks, probably more. 
ESPN reports that if the Rockets can't get Howard, they'll opt for Atlanta's Josh Smith, as new GM Danny Ferry is reportedly pursuing major changes to the roster. 
Thomas took to Twitter to let the Celtics know he doesn't want to ruin Pierce's night

The Hall of Famer was a seven-time All-Star with the Celtics, and was MVP of the 1976 Fina...

It's rare to see a legit punch in an NBA fight, but this was definitely one of them
We've got all the scores, highlights and news from an NBA Tuesday

The former Slam Dunk Contest champion will take his talents to Tri-State

Do NBA players have look-a-likes from famous paintings? We found out on the new Arts & Culture...