Rodman says he plans to speak with Kim Jon-un about Bae's release
Dennis Rodman plans to speak with North Korean leader Kim Jong-un in the near future to discuss the release of alleged dissident Korean American Kenneth Bae.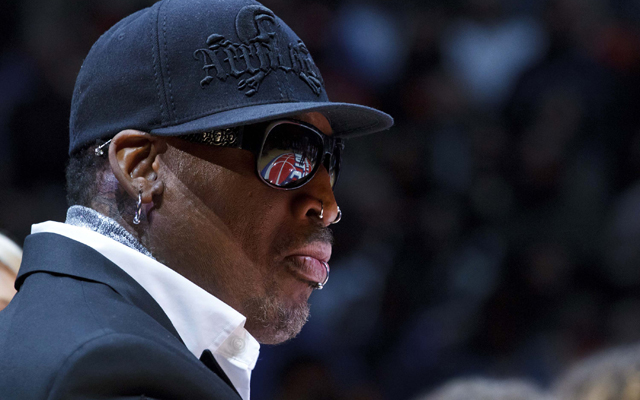 We could be on the brink of global annihilation from that most unlikely of suspects again: Dennis Rodman. 
Shanghaist brings us this transcript of an interview with the Huffington Post in which Rodman discusses his plan to talk to North Korean leader Kim Jong-un and push for the release of missionary Kenneth Bae. Bae has been held in North Korea since 2012. From Shanghaist: 
"I gave [Kim Jong-un] a great indication of when I'm going to Beijing soon -- that's just a hop, skip and a jump from North Korea. So basically, you know, I'm pretty sure I'll be talking to him soon," Rodman told Hill.

"I will definitely ask for Kenneth Bae's release," he said. "I will say, 'Marshal, why is this guy held hostage?' I could try and soften it up in that way."

"If the Marshal says, 'Dennis, you know, do you want me to let him loose?' and then if I actually got him loose -- and I'm just saying this out the blue -- I'd be the most powerful guy in the world."
via Dennis Rodman may be going back to North Korea to rescue Kenneth Bae: Shanghaiist.
Rodman met with the dictator in February, was asked back and spoke with the FBI.
Sure, Rodman going to speak with the Great Leader about releasing a Korean American charged with dissent. What can possibly go wrong? 
Oh, hey, canned food's on sale!
The banged-up defending champs expect to get one of their All-Stars back against the Hawks

The Spurs have confronted Kawhi Leonard about his rehabilitation from a quad injury

The big man incurred the tech on the same night he put up a historic 30-30 line
Everything you need to know about the Eastern Conference playoff situation entering Thursd...

The Greek Freak turned his ankle Wednesday against the Clippers, but the outlook seems pos...

The Nuggets and Clippers kept pace Wednesday night, but they still sit outside the top eight...