Rondo last remaining constant on ever-changing Celtics
Boston's Big Three is gone. So is Doc Rivers. All that remains the same on a very different Celtics team is Rajon Rondo, who might be the next to go.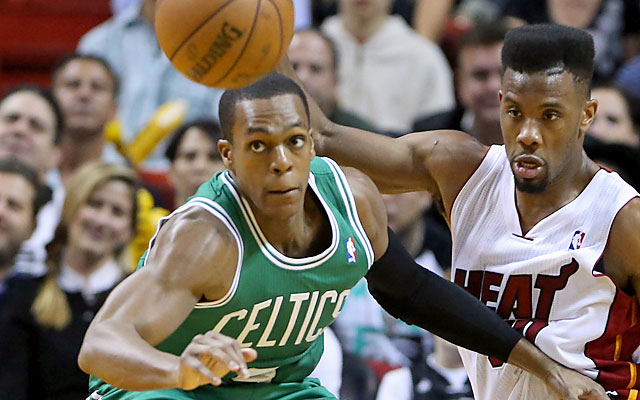 MIAMI -- Kevin Garnett and Paul Pierce are long gone, and Ray Allen is suiting up for the enemy. One constant remains with the Boston Celtics, the last man standing from those epic playoff battles with LeBron James. 
Rajon Rondo hopped off the bench in the fourth quarter and jogged to the scorer's table. He entered the game with 4:01 left and the score tied at 84. In the end, Rondo had almost nothing to do with the outcome; in fact, he would say later, "I don't think I can play any worse than that." 
Garnett gave the Celtics their defensive bite, and Pierce gave them their offensive bark. Allen, the first member of the Big Three to leave when he bounced to Miami in 2012, had been the beneficiary of so many slick Rondo passes, which he so skillfully redirected into the basket from behind the 3-point line. 
But James always knew who gave those Celtics teams their backbone, their heartbeat.
"He's one of the better competitors we have in our league, and when he's out on the floor, he just makes everyone better," James said after the Heat held off Rondo's Celtics 93-86 on Tuesday night. "He breaks down defenses and puts guys in the position to succeed every single possession. You've got to account for him."
Even James had to admit, though, what is becoming painfully obvious to Rondo and anyone watching Rondo with his new team.
"It's different," James said.
You couldn't tell from Rondo's steely-eyed glare when he subbed into a tie game with 4:01 left that this wasn't Game 7 of the 2012  Eastern Conference finals -- couldn't tell that he wasn't jogging out there for another crack at LeBron with Garnett and Pierce at his side. Every game is like that to Rondo.
Garnett and Pierce are in Brooklyn now, of course, enduring their own struggles and adjustments. Rondo has completed three games of his comeback from ACL surgery -- all losses. In this one, he scored one single, solitary point to go with his five assists.  He missed all eight of his shots from the field and three of his four free-throw attempts.
Brad Stevens, the coach who inherited Doc Rivers' job of trying to connect with one of the most headstrong stars in the NBA, offered words of empathy, not condemnation.
"It's really hard for Rondo right now, because we're throwing him to the wolves in his exhibition season," Stevens said. "He's three games in, in a year where he hasn't played. I was really proud of him taking it to the rim, getting fouled, getting to the foul line. I was proud of him shooting that last 3-pointer off the dribble. Hey, you go to battle with a guy like that."
The question is: For how long?
Rondo's new team is a far cry from the one he left behind when his right knee gave way almost a year ago in Atlanta. Boston is in the midst of a full-on rebuild, and not even team president Danny Ainge knows how long it will take. Ainge emerged from the Pierce-Garnett trade flush with draft picks but short on cap room. There are more moves to come, to be sure. Whether one of them will involve Rondo is the biggest question facing Ainge and the Celtics -- and frankly, the biggest one facing Rondo.
"I don't put too much on the future," Rondo said, even though he knows that everything is riding on it.
League sources say Ainge is not actively shopping Rondo, but like any good GM, he isn't ignoring the phone calls, either. He's only come close to trading Rondo once before, in a deal that would've landed him Chris Paul. To all other inquiries about his prized point guard, Ainge keeps saying the same thing: "No."
An extension? Not now. After the NBA system was rigged for years to keep stars from leaving their teams, the rules now make it virtually impossible for a player in Rondo's situation to sign an extension. This summer, with one year left on his deal, Rondo would be eligible for at most a two-year extension. Like Paul when he was traded to the Clippers in 2011, Rondo stands to get the longest, most lucrative deal by becoming a free agent in 2015 and re-signing with Boston.
If Rondo is going to stay, he must be willing to endure some pain first. He must be willing to tolerate losing, which is something he does not accept willingly. He also must understand that the team around him is going to change again -- dramatically, and he would hope, for the better. Gerald Wallace and Brandon Bass are clogging up the Celtics' cap room. But Ainge's most prized asset remains Rondo, who said before the season, "This is my team. Why would I want to leave? ... I've never backed away from a challenge."
This is the biggest basketball challenge he's faced, possibly much bigger than he realized. Without Garnett orchestrating the defense and popping open for 18-footers, and without Pierce creating his own shot when all else failed, Rondo's ability to "make everyone better," as James noted, is up against its greatest test. With Rondo on a minutes limit and probably not ready for back-to-backs, and with Avery Bradley and newly acquired Jerryd Bayless injured, the Celtics are trying to get by with D-League product Chris Johnson (who shined, by the way with 11 points in 25 minutes against the Heat) in the rotation. Another D-Leaguer is on his way on another 10-day contract, Vander Blue of the Delaware 87ers.
"Rondo's working his way back into form, and you can tell," James said. "Right now he's just getting comfortable. He's on a restricted time limit right now, and it's definitely different [after] being in competition with those guys for so long. There's a lot of new faces in different jerseys."
The biggest question facing the Celtics is whether Rondo will be the next one.
Greek Freak scores career-high 44 points and reaches scary level to finish the game

It was an ugly finish as the Warriors fell to 1-2 on the season -- both Curry and Kevin Durant...

Mirotic was hospitalized with facial fractures after an altercation with Portis during pra...
Irving had some choice words for a fan who heckled him in Philadelphia

Several teams were reportedly interested in Nelson after he was waived by the Nuggets

Cousins got into a heated exchange with a fan during the Pelicans' season opener