Rondo on Heat: 'It's not a rivalry, but I still don't like those guys'
Boston Celtics' point guard Rajon Rondo says the matchup against the Miami Heat isn't a rivalry with the Celtics but he doesn't like those guy.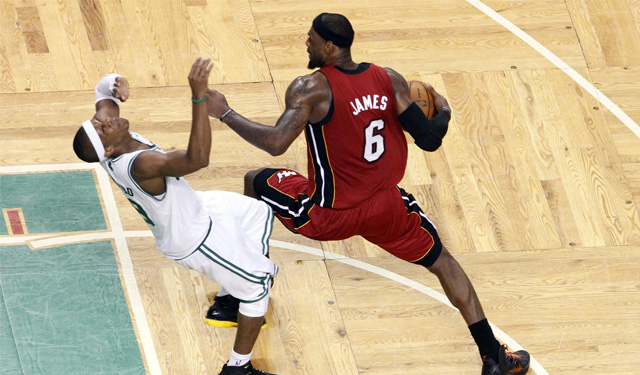 Are the Miami Heat and Boston Celtics an actual rivalry? We had the Celtics and Heat square off in the playoffs for three straight postseasons with the Heat winning the last two. Once they acquired LeBron James and Chris Bosh, Miami seemed unbeatable in the playoffs and the Celtics never wanted to give them the satisfaction of believing they were. They would posture, claw, and fight to make the Heat earn everything, especially in the Eastern Conference finals before James finally won his first ring.
Since then, the Celtics have dismantled their playoff team and are in a transition period as the rebuild their roster under coach Brad Stevens. The Heat are still gunning for titles as they look to three-peat this season. A couple months ago, James told the media that the rivalry between the two franchises was dead. According to the Boston Globe, Rajon Rondo agrees it's no longer a rivalry. However, he still doesn't like them.
Does Rajon Rondo think the Celtics-Heat rivalry is dead, as LeBron James said in November?

"That's a tough question," Rondo said. "It's not a rivalry. But I still don't like those guys."
This sounds similar to the things Joakim Noah has said about the Heat. Since James and Bosh joined the Heat, the Celtics are 12-13 against them, including playoffs. While the fan of the Celtics may still despise this Heat team, there have been so many changing parts with Boston even in the last year that it's probably hard for the Heat to take such a rebuilding team as a serious rival.
Rondo was also careful to clarify his comments to the reporters to make sure there wasn't much of an extra distraction with the matchup Tuesday night.
"To go back and answer your question, I don't really like anybody I play against," Rondo said. "That's just the type of attitude I approach the game with. We're not friends on the court. Afterwards it's a different story, but while we're playing, I'm trying to win."
The Celtics are 1-0 against the Heat this season, winning on a Jeff Green 3-pointer at the buzzer.
The Cavs would reportedly entertain the deal, but there's really no point

Westbrook claims he doesn't remember calling Jackson's celebration 'bull----' back in 2016

Rose is reportedly sick of being injured, and it's 'taking a toll on him mentally'
SportsLine's proven computer model simulated Friday's Cavs-Hornets game 10,000 times

SportsLine's Mike McClure, a DFS pro with more than $1M in winnings, gives optimal lineup...

SportsLine's advanced computer model simulated Friday's Bulls-Warriors game 10,000 times