Rondo says he hasn't talked with Melo about teaming up
There's been speculation and mild chatter about Rajon Rondo and Carmelo Anthony discussing a future partnership together, most likely in New York. Though Rondo says that's not accurate.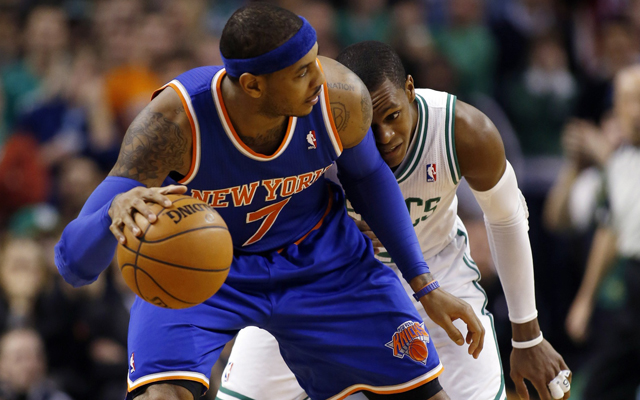 You can put the Rajon Rondo-to-New-York talk on ice. At least for now. 
Carmelo Anthony has already denied the talk that he's recruiting Rondo to the Knicks, telling USA Today, "C'mon man. In my book, that's tampering."
Now it's Rondo's turn to shoot it down. 
"People talk, media talk, people make up rumors, people run with them," Rondo said after the Celtics' shootaround Tuesday before they played the Brooklyn Nets.

"That's about it. I haven't spoken to him. He ain't contacted me. It's just rumors."

When asked if Boston is home and he is a Celtic, Rondo said, "I'm a Celtic right now."
The Celtics have been said to accept an offer sending out long-term veteran players for Amar'e Stoudemire, but that doesn't have anything to do with Rondo.
Rondo hasn't been cleared to return to practice quite yet, telling the team's official site on Wednesday, "I'm confident, but like I said, I haven't practiced or anything so it's hard to say." But he does appear to be closing in, as his timetable would suggest. 
Rondo is signed through the 2014-15 season and while there's been plenty of speculation of how he'd get along with new coach Brad Stevens and if he's part of the long-term rebuilding plan in Boston, nothing seems to suggest, at last right now, that he's angling for a way out of town. 
We've got all the scores, highlights and news from all of Sunday's games

The Rockets beat the Warriors 116-108 on Saturday night

The Cavaliers gave up 148 points in their loss Saturday afternoon to the Thunder
Blatt made the comment before coaching in the All-Star Game in Turkey

Is this rock bottom for the Cavaliers because it sure feels like it is

Wade, as he's done so many times in his career, threw it up to LeBron for the thunderous f...