Rondo's pregame ritual is nuts
Rajon Rondo goes through a very elaborate process before the game, Jason Terry says.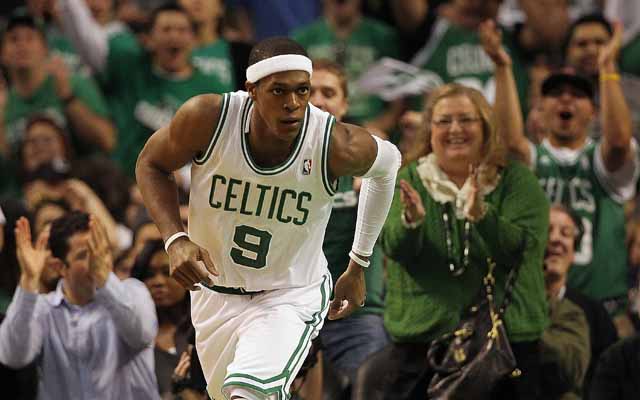 Rajon Rondo -- enigmatic and indecipherable.
(Getty Images)
Pregame rituals are kind of crazy. You spend the preseason, an 82-game season, and a four-to-twenty-eight game postseason doing the same thing, every day. Players become obsessed with routine, controlling elements to make sure they perform at their best. Handshakes, dances, fan daps, chalk tosses, the pregame stuff is part of the game, the ride of the chariot around the Colosseum. And they can get extensive. 
Like how Jason Terry describes Rajon Rondo's pregame action to ESPN: 
"Rajon Rondo, for sure. His routine is long-winded and it lasts all the way through tip-off. It starts in the back hallway. He runs down a corridor and he throws the ball to our team chaplain, who throws it back. Then [Rondo] runs out into a circle, high-fives the whole team and then he does the layup lines for five minutes.

"Then he will stand under the goal and Paul Pierce will shoot every ball on the rack from half court. Rondo will catch four balls at one time and then after that, it's just amazing -- one pass off the backboard to KG, one bounce pass to Paul Pierce and then he throws it all the way up to the scoreboard and Jeff Green finishes with an alley-oop.

"It's every game, even road games. I have no idea how he started it; I'm new to the team. I was still going through layup lines and I almost got hit with one of those balls in the head. I wasn't aware that's what they were doing. It threw me off."
via Boston Celtics Jason Terry talks about teammates KG Paul Pierce Rondo -- ESPN.
Tossing the ball to the scoreboard seems really high. Am I the only one worried about a potential injury from this? Terry goes on to talk about the time he hit an official that way. 
Rondo remains the most enigmatic player in the NBA. His game is so creative, his temper is so unstable, his attitude is so hard to read, and his postgame interviews are simultaneously hilarious and really insulting to anyone who works hard at writing about basketball. 
And he doesn't care. This is Rajon Rondo, living apart from everyone else in Rondo World. 
San Antonio's track record speaks for itself, but they've made a few puzzling moves this o...

The Kings top pick thinks your burgers are trash, California

Popovich added that Trump is 'unfit intellectually, emotionally, and psychologically' to be...
Larry Hartstein turned in a massive profit to close last season and locked in a pick for R...

Too many stars and not enough spots on the upcoming season's All-NBA teams

It appears Philadelphia will continue to be extremely cautious with its potential franchise...