Roundtable: Derrick Rose out for season; should Thibodeau have played him up 12?
Did Tom Thibodeau put Derrick Rose in danger by playing him up 12 with 1:30 to play in the Bulls' win over the Sixers, or was Rose's ACL tear which has ended his season unavoidable?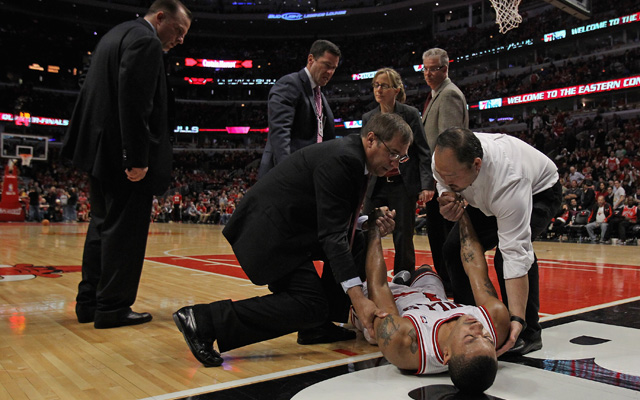 This is bad.
(Getty Images)
With a minute and a half left in Saturday's Game 1 vs. the Philadelphia 76ers, Derrick Rose
suffered a torn ACL on a driving layup attempt
. The Bulls held a 12 point lead at the time, having dominated the Sixers for much of the game. 
More on the Bulls
Related links
More NBA coverage
For much of the season, Tom Thibodeau has taken criticism for playing Rose extended minutes in his return from injury, after Rose missed games for five different ailments throughout the year. So with the Bulls seemingly in control but a 20-plus lead dwindling as the game drew to a close, the question has been raised whether Thibodeau should have had Rose in the game at all. Rose finished the game having played 37 minutes.
Our CBSSports.com
NBA team
weights in on Thibodeau's decision to play Rose up 12 with less than 1:30 left.
Ken Berger, CBSSports.com Senior Writer:
 So the reigning MVP and the Bulls' only chance to win a championship went down awkwardly Saturday with about a minute left and Chicago leading Philadelphia by 12 in Game 1 of their first-round series. Which leads to a perfectly valid question: Should Derrick Rose had been on the bench?
Well, in retrospect, of course. Had Tom Thibodeau known that Rose was going to injure his left leg -- it looked like the outside of the knee that he was grabbing as he writhed in pain on the United Center court -- he would've run out onto the court, flailing his arms for a timeout and substitution. Ol' Thibs might well have tackled Rose, knowing the damage he would inflict doing that would be less than what was about to happen.
We know that with Rose out for the playoffs, the Bulls are done. But we also know that what happened to Rose Saturday -- landing awkwardly on a jump-stop and having his leg bend the wrong way -- could've happened to any player at any time under any score and clock circumstances.
We also know that you can't coach with hindsight. Nobody, not even Phil Jackson with his Zen mastery, can ever know what's going to happen five seconds from now.
So while Thibodeau has a reputation for playing his key guys too many minutes, what was he supposed to do here? A 12-point lead with a minute left is comfortable, but not 100 percent ironclad. Whatever backlash Thibodeau would face if Rose's injury is significant isn't as bad as the grief that would've been heaped on him had he benched his starters at the previous play stoppage and lost a home playoff game.
The Bulls' Achilles' heel was exposed Saturday for exactly what we all knew it would be: Rose's health. Can't blame the coach for that.
Royce Young:
You know it, I know it -- hindsight is, you know.
But that's not a luxury any coach ever has. If Marty McFly had come running in and told Tom Thibodeau that Derrick Rose was going to get hurt in the last minutes with the Bulls up 12, I'm pretty sure he would've taken him out. I mean, he was Coach of the Year, last season. Seems like a pretty sharp guy.
You just can't ever know. Rose has finished a whole lot of games with the Bulls up 10 or more. It's just when lightning finally strikes, you pay dearly for it. You can try and anticipate it, but who really anticipates a potentially devastating injury? You can't. You just play the game, coach the game, hope everyone is healthy at the buzzer and move on.
If this were a 30-point game? That would be some reason for uproar. But it was a 12-point game and one in which the Sixers were trying to make a push. Not that Philadelphia likely would've come back had C.J. Watson cleaned things up, but with a minute left, Thibodeau was likely just thinking about finishing strong and then moving on. With a minute to go, you can't anticipate a non-contact injury. Those type of things just happen.
Rose has probably been a little more healthy than the Bulls have let on this year. But with the rigors of the schedule and the fact Chicago was owning the top of the East, there was no reason for chances. Which is the point. Thibodeau and his staff have been especially careful with Rose this season. They wouldn't just throw caution to the wind and get reckless all of a sudden. I don't think Thibodeau necessarily thought the game was in doubt with a minute left, but he certainly wanted to finish well. The fact Rose went down in that time is simply unfortunate with no fault, no blame to be passed around.
Ben Golliver:
Playing superstars too deep into blowout wins and losses is an epidemic in the NBA. But you can't fault Tom Thibodeau in this situation. First: Rose, despite missing tons of time recently, had shown no ill effects during Game 1. He wasn't totally sharp but he didn't appear to be lagging in any meaningful way. Second: Game 1 is by far the most important game in any playoff series. The Bulls had dominated the entire game. Wanting to close that out carries a meaningful emotional value. Third: Philadelphia was mounting a meaningful comeback prior to Rose's injury. In fact, the Sixers were on a 12-5 run before he went down. The game was still very likely over but it wasn't totally completely over. It's not reasonable to expect a coach in that situation to pull his best player. If the injury had occurred last week, during a meaninless regular season game, that's a different story. 
ACL injuries are one of the absolute worst things in sports, the cause of all sorts of anger, frustration and sadness. Scapegoating Thibodeau won't make those feelings go away and they won't get Rose back to the court any faster.

Matt Moore: There's going to be a lot of discussion about the fact that his injuries exacerbated one another. The strain from his ankle affecting his back, his back affecting his groin, his groin affecting his knee, and so forth. Only his trainers and medical staff know the answers to those questions, though. In the interim, we would be playing doctor to try and understand how Rose's body works and whether the injury could have been avoided. 

We know this: traumatic knee injuries are rarely if ever the result of trainer treatment. In most cases, they are simply freak injuries that occur based on the movement involved. There are certainly cases where recurrent knee injuries develop, but there has been no indication of Rose facing such a condition. His situation doesn't resemble that of Greg Oden, Brandon Roy, or even Chris Paul, who has suffered knee problems due to meniscus issues.

Thibodeau's gamble to play Rose late cost him, but it could just as well have occurred in the first three quarters, or not at all. We don't understand enough about these injuries yet to know. And barking over what is honestly arguably the best coach in the league's decision won't change the fact that the game has lost one of its truly great superstars for the season due to injury. There's an argument to be had about Thibodeau's minutes handling this season. Rose's injury has nothing to do with it.  
There's no shortage of moments to choose from

The Trail Blazers almost traded for Charles Barkley, but when they didn't, it put them in debt...

The self-proclaimed ASG snub Williams may be bitter about Butler requesting to sit out Sun...
The commish said they were overly conservative with the decision this year, but that should...

A dive into the NBA history books for every result from every NBA All-Star Game

James set the tone during practice that this year's All-Star Game was going to be differen...