Roy Hibbert and the Pacers' size comes up big again
The Pacers got back to the basics. They started playing tall again. And led by the tallest guy on the floor, it worked.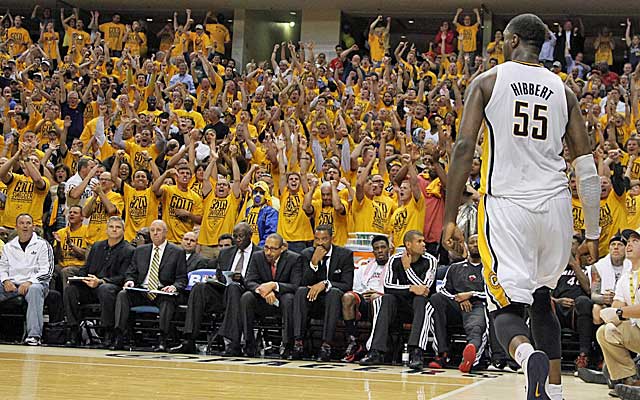 INDIANAPOLIS -- I kept waiting for LeBron James to come over and give Roy Hibbert a little dap. You know, since apparently that's the official invitation to the you're-an-NBA-star-club.
A good time would've been after Hibbert pulled in another one of his offensive rebounds, like the one he put back for two, plus a foul on LeBron that put the Pacers up five with 90 seconds left. 
Hibbert's final line: 40 minutes, 23 points on 10-16 shooting, 12 rebounds, six on the offensive end. Nobody was more dominant end-to-end than Indiana's lumbering big man. Nobody had more impact, more influence or more effect. 
After Game 3, Hibbert said you could put that one on him. He took resposibility and said he had to do more. Had to defend better, had to rebound better, had to score better. Check, check and check.
"Not one guy in that locker room didn't believe we we're going to win this game tonight," Hibbert said. "We showed fortitude and we picked each other up. We never held our heads down. We know they're the champs. They're one of the best teams in the NBA right now. We know we're going to be fighting an uphill battle. We're never going to give up. We're relentless."
Relentless is a good word to describe Hibbert's effort in Game 4, specifically his work on the boards. He simplified the art of offensive rebounding in just 11 words.
"I think I'm in the right place at the right time," he said. 
Addendum to that: It helps to be 7-foot-2 when you're in that right place at the right time. 
"It's a mental thing, really," Hibbert continued. "Do you want to go in there and bang with LeBron, Chris Bosh and Birdman, or would you rather just be on the outskirts of the paint and just say I'm just going to get back in transition?"
Judging by the six Hibbert had, two of which led to five massive crunchtime points, I'm thinking he's not big on backpeddling to the other end while the glass gets cleared. 
The Pacers' size is the top advantage they has over the Heat and unless they're exploiting that, they're being exploited. Games 1 and 2, the Pacers utilized that size, dominated the boards and controlled the paint. They won one of two, but obviously played well in both. Game 3, it was another story. The Heat racked up 52 points in the paint, didn't have issues on the boards and not coincidentally, cruised. 
Hibbert played well in that Game 3, piling up 17 rebounds, but overall, Indiana's size didn't impact the Heat. Game 4, that story changed. 
"David [West] and myself, we really match up pretty well," Hibbert said. "They're unique because they have five guys that can really shoot from the perimeter. We respect that. So you can't be caught, quote, unquote, ball-watching too much because Haslem of Chris Bosh can really do a lot of damage out there."
Obviously it's not just Hibbert. West is a fullback inside, bulldozing his way to the rim and clearing the interior. His 14 points and 12 rebounds don't pop on the statsheet, but the combination of size and strength he forms with Hibbert is something Chris Bosh, Chris Anderson and Udonis Haslem can't deal with. Even in the fourth quarter when Miami went small, the Pacers stayed big and West guarded Ray Allen. Miami wasn't even able to exploit that. 
The method the Pacers have used in every win against Miami has been to crush the glass, seal the paint and score as effectively inside as they can, including off of as many second chances as they can get. The product of Game 4? Fifteen offensive rebounds, 19 second chance points, a 49-30 rebounding edge and most importantly, a win that knotted the series 2-2. 
Said Frank Vogel: "Offensively we always want to play smash-mouth basketball, play through our big guys in the paint, kill the offensive glass, and-1s, 2s and 3s, relentless driving to the basket and live at the free throw line."
That's the Pacer way and when it works, they can dismantle even the class of the league. The Heat don't have an answer for Hibbert, and they're not going to find one for Game 5. Alonzo Mourning ain't walking through that door. The Indiana big man is a big problem for Miami and unless they can drag him away from the paint, he's going to continue to own it. 
Keep it right here for all of the news, notes, scores and highlights from around the leagu...

LeBron tried to keep what he said a secret, but one mic on the court picked it up

SportsLine's Mike McClure, a DFS pro with more than $1M in winnings, gives optimal lineup...
'It's not just about me, it's for the next crew as well,' LeBron said

Kobe the rookie had no fear facing off against Michael Jordan the legend. Then he gave up a...

Once again the Jazz will be without Rudy Gobert due to injury. How will they fare?