Roy Hibbert blasts media after Game 6, uses homophobic slur
Roy Hibbert blasts the media for not being more aware of the Pacers, and says "no homo" in a press conference.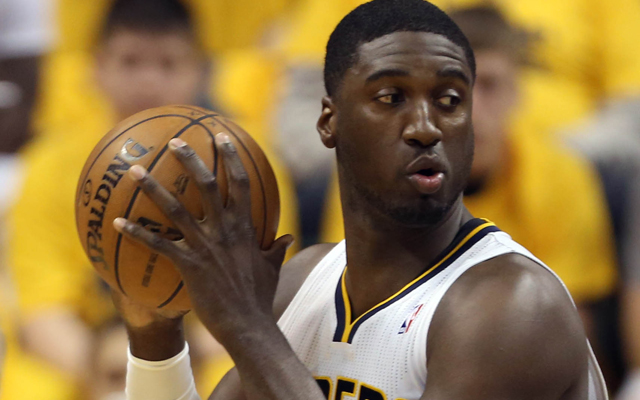 Indiana Pacers C Roy Hibbert went off after the Pacers' Game 6 win over the Heat Saturday, regarding Hibbert's low ranking in the Defensive Player of the Year vote. When asked why he wasn't higher than 10th in the voting. He was... not happy. From NBA.com:
You know what, because y'all (expletive) don't watch us play throughout the year, to tell you the truth.  That's fine.  I'm going to be real with you.  And I don't care if I get fined.  You know what, we play, we're not on TV all the time.  Reporters are the ones that are voting.  And it is what it is.  If I don't make it, that's fine.  I'm still going to do what I have to do.
Hibbert also referenced the homosexual slur phrase "no homo" earlier in his press conference: 
"The momentum could have shifted right there if [James] got an easy dunk," Hibbert said. "There was what -- was it Game 3 here?  I really felt that I let Paul down in terms of having his back when LeBron was scoring in the post or getting to the paint, because they stretched me out so much. No homo."
Hibbert is likely to face a fine for the use of the phrase involving maternal relations. The trickier question surrounds the use of "no homo." The NBA has been active with its players towards expanding public relations with the gay community and on national television, the Pacers' best player in the series just said that. That's going to be complicated, especially in light of Jason Collins' coming out publicly last month. 
Additionally, it's hard to feel too bad for Hibbert. The Pacers struggled out of the gate when most of the attention is drawn, and struggled down the stretch when voters start to pay attention. Paul George won Most Improved Player. The Pacers were noticed by the smart writers that paid attention. Inventing what you want is nice, but it's not reality.
The bigger issue, though, is using the phrase "no homo." That is not what the NBA tolerates anymore. 
T.J. Warren gets paid big money by the Suns in a four-year deal

Melo didn't hold back on his feelings about President Donald Trump and urges for help in Puerto...

The Wizards star says the NFL won't change until important players like Brady and Rodgers speak...
Popovich spoke at length about sports, race, culture, and politics during Spurs media day on...

Carmelo Anthony finds the idea of coming off the bench very funny

Several teams spoke about Trump's recent comments about protests and the Warriors' White House...