Roy Hibbert bounces back in a big way in Game 2
The Pacers big man was unstoppable after being invisible for most of the postseason.
• 4 min read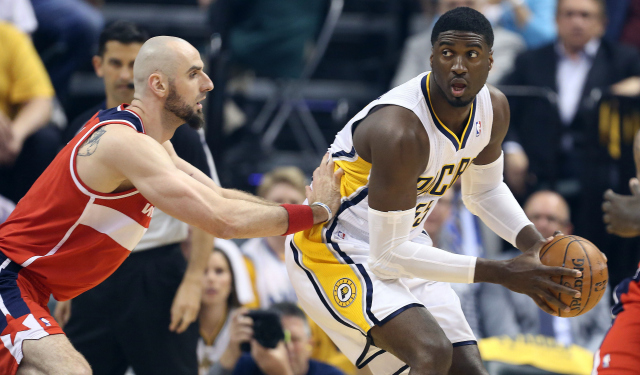 More postseason coverage: Playoff schedule, results | Latest news, notes
Roy Hibbert might be back. It was just one game, but the man who entered Game 2 of the Indiana Pacers' series against the Washington Wizards with a playoff PER of 2.8 exploded for 28 points on 10-for-13 shooting in Indiana's 86-82 win on Wednesday. While he was effective last Saturday when the Pacers polished off the Atlanta Hawks, this was easily the most confident and comfortable the All-Star center has looked in the postseason. 
His teammates said he had to get involved after Monday's series-opening loss, it was obvious from the outset that things would be different. Playing as if Shaquille O'Neal had delivered a pregame speech, he scored on Indiana's first two possessions. At halftime, the TNT analyst was as enamored as you'd expect with how Hibbert was being employed — with Indiana looking for him in the post and his college coach John Thompson III watching courtside, he compiled 17 points on 5-for-7 shooting by the break.
Before Wednesday, Hibbert had managed just 37 points on 16-for-45 shooting in 171 playoff minutes. This wasn't just a bounce-back game; he looked like a completely different player. The equivalent transformation for Kevin Durant would have the MVP scoring 177 points tonight, via CBS Sports' Zach Harper.
"I just haven't been as aggressive as I should've been in the past, and you have to look within yourself to make things happen," Hibbert said at the podium after the game. "David [West] always talks to me about being the person that rescues yourself when you're in the middle of the ocean, so there's nobody that can throw a life raft or a rope out to help you. So I've gotta do it myself."
Hibbert said that going fishing with Paul George after the previous day's practice helped his mindset.
"I seriously believe that the biggest person that helped me out here tonight was Paul," Hibbert said, a statement made more meaningful by the fact that the Pacers have been dealing with rumors of chemistry problems. "We fished for about two hours and just relaxed and didn't talk about basketball. We just talked about life and tried to catch some bass. He reached out and got my mind off things and this is hopefully something I can build on. He's a great teammate, so I really do appreciate him reaching out 'cause he didn't have to."
As the losses and poor performances piled up over the past couple of months, Hibbert and his team heard every critique imaginable. It was never worse than Monday, when a pair of former NBA stars publicly poked fun at Hibbert's scoreless outing.
"I'm sure he didn't like how he played the other night and I'm sure he didn't like the criticism," Indiana head coach Frank Vogel said. "I'm sure it did have some impact. But more than anything I think he just wants to help this team win. It's not about answering critics or anything like that. It's just about, he wants us to win. We lost Game 1, I'm sure that's what bothered him more than anything."
The Pacers' pound-the-post strategy was smart in that they need an engaged Hibbert if they are ever going to find the form that made them an elite team to start the season. It was questionable in that you can't build a sound offense around Hibbert post-ups. Indiana isn't used to playing this way, and Hibbert's teammates shot a collective 37.2 percent from the field. No Pacer aside from the big man had a particularly efficient night, with George and Lance Stephenson combining to go 6-for-26 from the field. It was enough to win, though, and Washington couldn't stop the center this time. 
"Roy came out and had a heck of a game, one that we all know he's capable of having," Wizards head coach Randy Wittman said. "We didn't do the job that we have to of not letting him catch the ball where he wants and getting him of his spot four or five feet [away from the basket]. They took advantage of it, no question about it. "
Washington should be more prepared when the series shifts to the Verizon Center on Friday, and Indiana will need a more balanced offense. If this monster night is an indication that he can be a bigger part of that, then this could be the turning point the Pacers have been looking for.
"This is just a start," Hibbert said.
Boucek most recently was head coach of the Seattle Storm in the WNBA

The Rockets apparently aren't going to rush their new point guard back

The Bucks are going all in on retro with their jerseys and court design
Mike McClure, a DFS pro with more than $1M in winnings, gives optimal DraftKings and FanDuel...

LaVar's son couldn't live up to LaVar's hype. But there's more to this story

Carmelo Anthony is hoping for Kristaps Porzingis to see success on his own